Trip and Falls on from Wires and Cords -- You Need an Experienced Attorney to Help You Not Trip Up
Modern life has changed forever.
Now, at a moment's notice, anybody anywhere can connect with anybody in the world by looking at their handheld cell phone or connecting with their router to access the internet.
All information is now instantaneous. All communication is a keystroke away.
But, with the convenience of modern life came a problem – how to connect and charge those devices usually requires electricity.
And electricity is not "wireless." Electricity still requires wires and cords for charging and connecting.
Cords and wires create obstructions to walking. And with the cords and wires of today, they can be everywhere and difficult to see for the unsuspecting customer or pedestrian.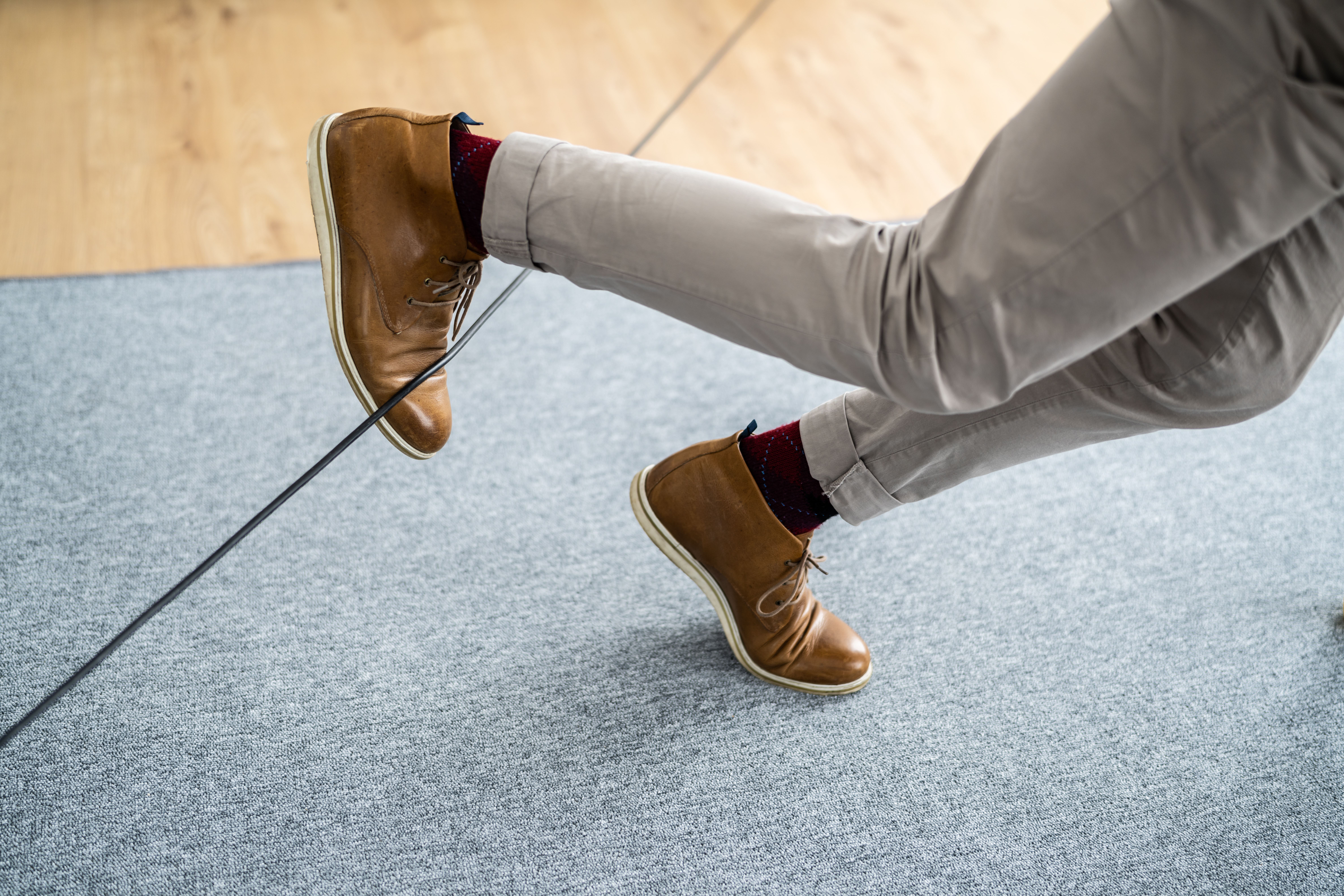 While wires and cords and necessary and common in just about every place of business and home, they also can be a danger if they are not appropriately secured and installed. Loose wires and cords pose as a tripping hazard, with some victims sustaining serious injuries as a result of the fall. Oftentimes, the fall is due to the property owner failing to place wires and cords in safe places, or the wires and cords are not properly secured, becoming a fall hazard.
Victims hurt by a fall on wires or cords on the floor may have a right to compensation for their injuries. Our trip-and-fall lawyers in Indiana could help you if you suffered injuries from falls on wires and cords on the floor.
Here at Shaw Law, our experienced personal injury law firm has helped victims and their families recover compensation for many different types of slip and fall injuries or trip-and-fall injuries throughout Indiana. We know how dangerous or deadly it can be, as we have handled catastrophic injury cases in falls such as brain injuries, spinal cord injuries, and wrongful deaths.
If you or a loved one suffered injuries due to falls on wires and cords on the floor, contact our experienced trip-and-fall lawyers in Indiana for a FREE consultation.
Dangers of Wires and Cords, and Victim Rights
Wires and cords pose dangers to patrons and guests if they become obstacles, causing people to trip-and-fall. If a wire or cord is near water and a victim slips and falls, there is an additional risk for electrocution. Victims of trip-and-falls on a wire or cord may be able to obtain compensation if a warning sign was not posted about the wire or cord, or if the wire or cord was improperly placed or secured.
Injuries From Falls on Wires and Cords
Victims of falls on wires and cords unfortunately often sustain serious and debilitating injuries. Some victims may require prolonged hospitalization, surgeries, or permanent disability as a result of the injuries they sustained. The most common injuries seen from a fall on wires or cords include the following:
Victims Hurt in Falls on Wires and Cords on the Floor Should Call Our Trip-and-fall Lawyers for Help
Victims who are injured in falls on wires and cords on the floor in Indiana should call experienced trip-and-fall lawyers.
Contact Shaw Law for a FREE consultation to learn more about what your rights may be under the law by calling (260) 777-7777or by sending us a message.
"A Lawyer you can count on."

- Kim