Wrongful Death After a Slip and Fall
Experienced Wrongful Death Lawyers in Indiana
Deaths from falls are the leading cause of deaths in the United States for the elderly. It devastates families and their loved ones. The losses can affect families for generations. And nearly every death from a slip and fall was preventable by the landowner, business, apartment, nursing home, hospital or worksite where it occurred.
Slip and falls have the serious possibility of causing serious harm such as:
Spinal cord injuries
As well as many other serious types of injuries
While these injuries are serious and can be life-altering, the most serious outcome of all from a slip and fall is wrongful death. Indeed, wrongful death is often called the ultimate personal injury—as no injury could be worse, and no amount of compensation can bring back a loved one. If you lost a loved one in any type of premises liability incident, call our experienced wrongful death lawyers in Indiana for help.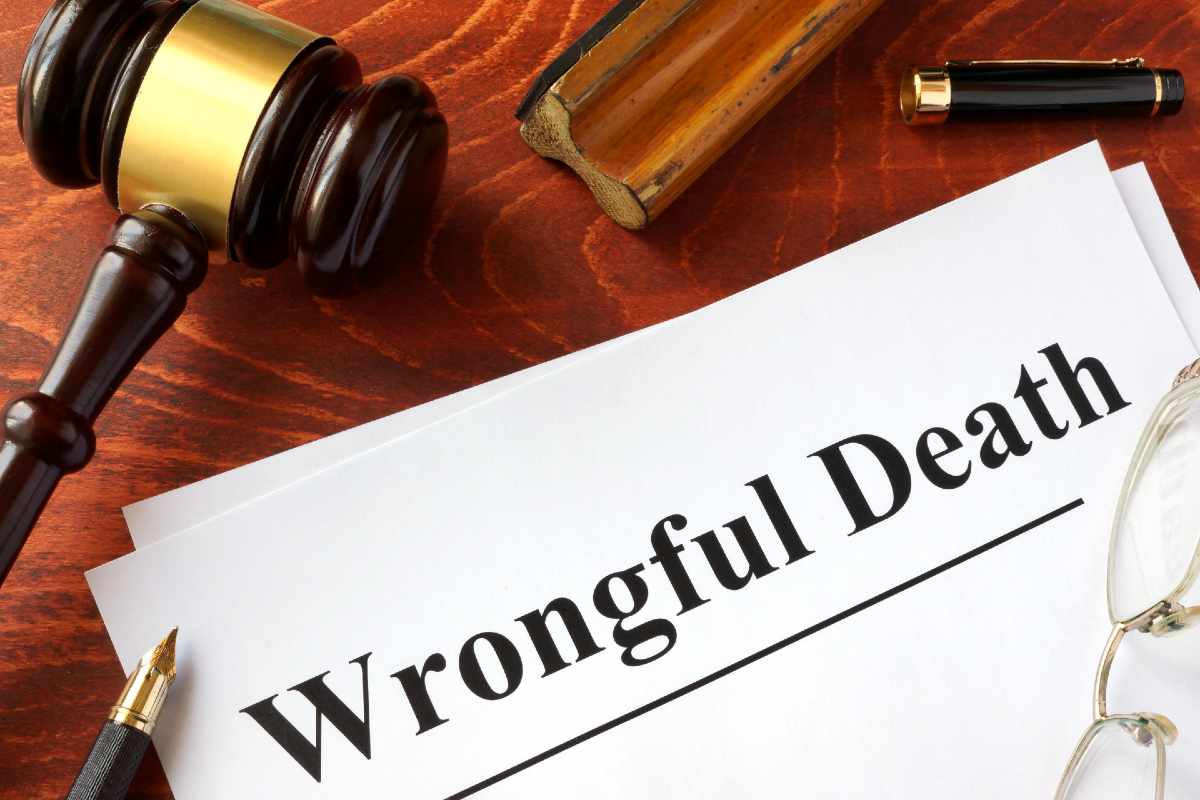 Even though, most of the time, slip and falls are all preventable, meaning that while a hazard may have caused the death of another individual, the individual or entity responsible for not taking care of the hazard can still be liable for the wrongful death of an innocent person. Even if the defendant did not mean to do it or cause any harm, which is almost always the case, the death of a loved one is catastrophic. No one ever fully "recovers" from losing their loved one.
This is why, if your loved one died as the result of a slip and fall, you should contact an experienced wrongful death lawyer today to learn what compensation you may be eligible for due to your loved one's wrongful death in Indiana.
What is Wrongful Death?
According to legal definitions, a person is considered to have suffered a wrongful death if their death was caused by misconduct or the wrongful act of another individual, business, or government entity, whether intentionally or ally. Such conduct must be the cause of the death in a wrongful manner, such as due to reckless, careless, negligent, or intentional conduct. A victim's family can make a wrongful death claim if their family member dies as a result of a slip and fall.
Who Can Bring a Wrongful Death Action in Indiana?
Only individuals who have "standing," or who are aggrieved from the wrongful death, can commence a wrongful death action. Generally, this means a surviving spouse, parents, children, or other dependents who may take under a Last Will or through intestate succession (die without a will). A court may be petitioned to appoint an executor/executrix.
If a loved one wrongfully killed after a slip and fall in Indiana, contact us to schedule a FREE consultation with our compassionate and experienced lawyers.
What Types of Injuries From Slip and Falls Can Cause Wrongful Death?
There are many different types of injuries that can occur from a slip and fall that can lead to death. Common injuries include the following:
Internal organ damage
Severe blood loss
Hypoxic injuries
Head injuries, and
Other serious injuries from slip and fall s leading to wrongful death after a slip and fall.
How Can a Slip and Fall Lead to Death?
Slip and falls can occur when a hazard is not treated or fixed. There are many different types of hazards that can cause slip and fall s, including the following:
Poor lighting
A wet floor that is not properly dried after tracked in snow, ice, or rain
Failure to post a caution sign or properly dry a floor after it has been mopped
Gravel
Debris
Garbage on the floor
Excessive use of soap or wax on the floor
Slipped products, or
Other hazards that could cause a trip, slip, and fall.
Types of Damages that Can be Claimed After a Wrongful Death Due to a Slip and Fall?
Family members of victims may be able to claim damages after their family member has died as a result of a slip and fall . Typically, damages are awarded in the form of compensation. Examples of common damages awarded after wrongful death as a result of a slip and fall include the following:
Loss of a victim's income
Funeral expenses
Burial expenses
Loss of companionship, loss of consortium
Pain and suffering your loved one experienced before dying
Medical bills prior to your loved one's death, and
Other damages related to the wrongful death.
Who is Responsible for a Wrongful Death because of a Premises Liability Accident?
The landowner or business owner could be responsible for causing or contributing to the wrongful death of a loved one under Indiana law.
An Indiana premises liability accident can cause numerous different types of severe injuries. But what happens if a person is fatally harmed because of a premises liability accident?
Family members can bring the claim or lawsuit for the estate of the deceased individual. Damages that are recoverable depend upon the status of the deceased person upon his death and whether he had any dependents under Indiana law.
Many deaths that happen on another's property are preventable if simple safety rules had been followed including appropriate warning signs or the removal of the hazard itself.
A slip and fall or trip and fall incident where a person strikes his or her head, for example, could be enough to cause fatal injuries. The brain is a very fragile organ and brain bleeds, if not detected early, can cause death.
What's Involved in Bringing a Legal Claim for Wrongful Death From a Slip and Fall in Indiana?
Firstly, it is important to understand that you have a limited period of time in which to file a death by premises liability lawsuit in Indiana.
This "statute of limitation" is generally two years in Indiana, but can be as short as 180 days if the death was caused or contributed to by a governmental entity in Indiana. The sooner that you begin to gather evidence and present it directly to your Indiana wrongful death attorney, the easier it will be to set yourself up for success, for maximum recovery of compensation in a settlement or in litigation.
A premises liability lawsuit can allege that the owner or manager of the property had a responsibility to remove a hazard or to place an inappropriate warning sign near the hazard to decrease the chances of critical injuries.
When this did not happen, the burden of proof falls to the surviving family members to gather relevant evidence that shows that a dangerous condition existed, that the property owner was aware of it or had reason to know about it and that the failure to warn about or to remove this particular obstacle led to the death of a loved one. Gathering evidence and using expert witnesses and other individuals in preparing a compelling claim are essential for maximum recovery. This requires an experienced liability lawyer like Attorney Jeff "JJ" Shaw and Shaw Law.
Call Our Experienced Wrongful Death Attorneys in Indiana For Help
Here at Shaw Law, our experienced wrongful death lawyers in Indiana can help you and your family recover compensation for burial costs, funeral expenses, and other damages related to your loved one's wrongful death.
Has your family suffered a wrongful death after a slip and fall in Indiana? Call our experienced wrongful death lawyers at (260) 777-7777 for a FREE consultation today.
DEFENDING THE COMMUNITY SINCE 1989
Read Our 5-Star Reviews
A Lawyer you can count on. - Kim

Not just the lawyers you need, but the lawyers you WANT. - Tristen K

Jeff Shaw was Very Professional - Shelby Kunes

Attorney Shaw got me a fair settlement, much more than I thought we were going to get. - Randy & Kathy M

I Told Him He Now Felt Like a Member of Our Family More Than Our Attorney. - Stephanie B.
$5,000,000 Verdict in Indianapolis, IN

Bicyclist Struck by Indianapolis School Bus (independent contractor) Awarded $5M by Indianapolis Jury (Upheld by Verdict, $4.4M Paid)

$3,040,000 Verdict in Gary, IN

Blackjack Dealer Awarded for Slip and Fall on Ice in Trump Casino Parking Lot

$1,750,000 Verdict in Hammond, IN

Child Dies in Fire, Landlord Failed to Provide Adequate Smoke Detectors

$1,460,000 Verdict Near the Ozarks of Missouri

Sheriff's Deputy who Collides With Improperly Transported Manufactured Home Convoy

$750,000 Settlement for Paralyzed Man Shot at Indy Gas Station

Man Shot and Paralyzed at Gas Station by Unknown Assailant from Unruly Crowd That Gathered After Murder of Person the Night Before at Same Site

$750,000 Settlement in Indianapolis, IN

$750,000 Settlement Slip and Fall Indianapolis Woman Falls on Water in Produce Section of Indianapolis Grocery Store Breaking Leg.

$750,000 $750,000 Verdict in Delphi, IN

$750,000 Verdict for Lady in Golf Cart Struck by Drunk Driver Awarded by Jury in Carroll County

$605,000 $605,000 Verdict in Valparaiso, IN

$605,000 Verdict - Child Awarded for Facial Scarring When Landlord Failed to Cover Exposed Hot Water Pipe in Living Room

$500,000 $500,000 Verdict in Kokomo

$500,000 Verdict for Woman Slip and Fall in Domino's Pizza Restaurant on Water (Reduced to $375,000)

$500,000 $500,000 Settlement in Bluffton, IN

$500,000 Wrongful Death Settlement in Bluffton, Indiana for Woman Killed When She Crossed Center-Line Into Path of Oncoming Speeding Semi-Truck