Neck and Disc Injuries After a Slip and Fall
If You Suffered Neck Injuries After a Slip and Fall, Call Our Slip and Fall Lawyers in Indiana for Help
The sudden force of a slip and fall accident could easily result in someone injuring their neck because the neck is made up of so many nerves, ligaments, tendons, bones, joints, and muscles that can stretch, strain, tear, or even fracture. Neck injuries after a slip and fall can be particularly devastating and debilitating, especially if there are spinal cord injuries (SCI). According to statistics, falls are second-leading cause of SCI including neck injuries. If you or a loved one were caused to fall and suffered a neck injury, call our slip and fall lawyers in Indiana for help.
Neck Injuries and Damage to the Spinal Column in a Fall
The neck is a very complicated structure because it has a wide range of motion, supports a lot of weight making up the head, and has a lot of vital structures running through or around it that the muscles, tendons, ligaments, and bones have to support. There are many ways that these vital structures could become injured.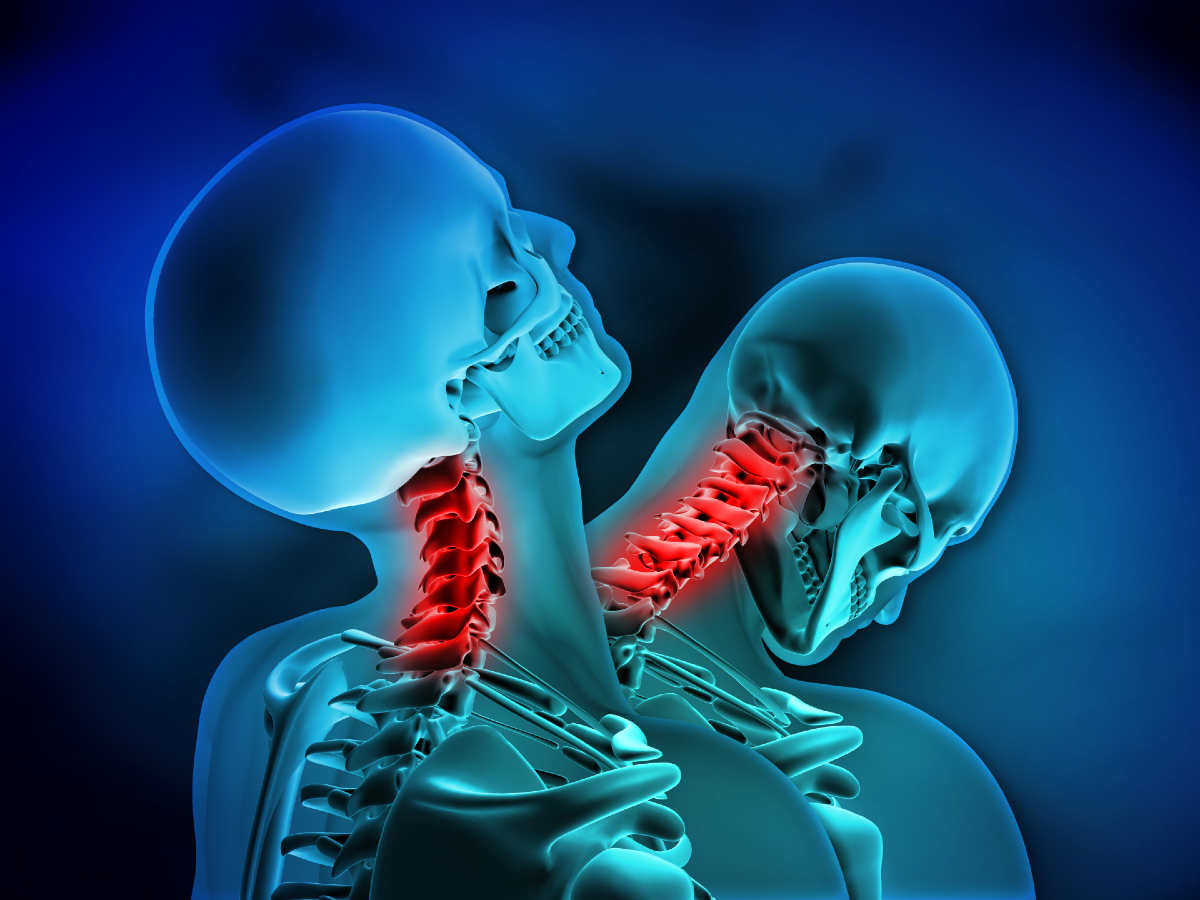 Ruptured Discs, Herniated Discs, or Annular Tears
The cushioning disc between vertebrae in your neck can be crushed or damaged in a fall. When this happens, it could protrude outwards and affect the nearby nerves. This could cause debilitating pain and injury. It could also protrude inwards and cause significant pain or debilitating conditions it if protrudes on the spinal cord. Must ruptured discs or annular tears will not heal on their own and will need surgery, often quickly after the accident. Anytime you have a herniated disc, ruptured disc, or annular tear, ask a slip and fall lawyer in Indiana for help.
Need for Spinal Fusion
A spinal fusion consists of a laminectomy, discectomy, and insertion of rods and screws to immobilize two or more vertebrae. Cement or cadaver spacers are placed where the damaged discs are removed. This surgery is permanent and results in a permanent range of motion restriction and limitation. Many times a person will have permanent restrictions on lifting weight (even just light grocery bags), carrying, pulling, and other twisting, running, or other physical activities.
Broken Bones in the Neck
Breaking the bones in the neck can also damage the spinal cord nerves, which might result in a person being permanently or temporarily paralyzed. And most serious of all, a broken neck can actually lead to a person's death.
Neck injuries such as these tend to increase with a person's age, and that is one reason why there are so many slip and fall accidents in nursing home facilities. Older people may have underlying health issues that may make their recovery periods longer and more difficult.
After a serious neck injury which has caused you permanent disability or injury, Shaw Law does not charge any upfront costs and there's no financial risk to begin working with our experienced slip and fall lawyers in Indiana. Call us at (260) 777-7777 today.
Whiplash Injuries
Whiplash injuries are one of the most common types of neck injuries. The symptoms of whiplash may take a few days to present themselves, but most symptoms will present themselves within hours or one day of the slip and fall. A doctor may recommend an X-ray to determine if there are any broken bones, or an MRI to determine if there are any muscle or tendon injuries, but it might also be helpful to have other imaging tests to check for any soft tissue damage that might otherwise be missed on an X-ray.
The accident victim with whiplash may experience fatigue, vision problems, neck stiffness or neck pain, and lower skull headaches. It is also possible, but less common, for a victim to suffer from tinnitus (a ringing in the ear), sleep problems, memory problems, concentration problems, and irritability. Importantly, should any neck pain or issues continue down along the shoulder or to the arms, or if the arms are weak or numb, or if there are new problems with the bowels or bladder, then these situations needs the attention of a medical professional right away.
Neck Sprains and Strains from Whiplash
When the soft tissues of the neck are stretched too far (hyperextension), the result is a sprained neck or a strained neck. This is more commonly referred to as whiplash, especially when the accidental fall snaps the head back and forth violently.
All Neck Injuries After a Slip and Fall Are Serious: Call Our Slip and Fall Lawyers in Indiana for Help With Your Case
Our experienced team can help you and your family recover the compensation that you need to reimbursement your expenses and compensation you for your physical pain, suffering, and agony. Any type you fall on the property of another person, business, or government entity, ask our experienced slip and fall lawyers in Indiana for help.
Come see us for straight talk about your injury case after you trip and fall or slip and fall.
Injured victims and their families should call Shaw Law at (260) 777-7777 to learn how we can help recover lost wages, medical bills, conscious pain and suffering, loss of consortium, and many other damaged related to a premises liability cases. Schedule your free consultation today.
DEFENDING THE COMMUNITY SINCE 1989
Read Our 5-Star Reviews
A Lawyer you can count on. - Kim

Not just the lawyers you need, but the lawyers you WANT. - Tristen K

Jeff Shaw was Very Professional - Shelby Kunes

Attorney Shaw got me a fair settlement, much more than I thought we were going to get. - Randy & Kathy M

I Told Him He Now Felt Like a Member of Our Family More Than Our Attorney. - Stephanie B.
$5,000,000 Verdict in Indianapolis, IN

Bicyclist Struck by Indianapolis School Bus (independent contractor) Awarded $5M by Indianapolis Jury (Upheld by Verdict, $4.4M Paid)

$3,040,000 Verdict in Gary, IN

Blackjack Dealer Awarded for Slip and Fall on Ice in Trump Casino Parking Lot

$1,750,000 Verdict in Hammond, IN

Child Dies in Fire, Landlord Failed to Provide Adequate Smoke Detectors

$1,460,000 Verdict Near the Ozarks of Missouri

Sheriff's Deputy who Collides With Improperly Transported Manufactured Home Convoy

$750,000 Settlement for Paralyzed Man Shot at Indy Gas Station

Man Shot and Paralyzed at Gas Station by Unknown Assailant from Unruly Crowd That Gathered After Murder of Person the Night Before at Same Site

$750,000 Settlement in Indianapolis, IN

$750,000 Settlement Slip and Fall Indianapolis Woman Falls on Water in Produce Section of Indianapolis Grocery Store Breaking Leg.

$750,000 $750,000 Verdict in Delphi, IN

$750,000 Verdict for Lady in Golf Cart Struck by Drunk Driver Awarded by Jury in Carroll County

$605,000 $605,000 Verdict in Valparaiso, IN

$605,000 Verdict - Child Awarded for Facial Scarring When Landlord Failed to Cover Exposed Hot Water Pipe in Living Room

$500,000 $500,000 Verdict in Kokomo

$500,000 Verdict for Woman Slip and Fall in Domino's Pizza Restaurant on Water (Reduced to $375,000)

$500,000 $500,000 Settlement in Bluffton, IN

$500,000 Wrongful Death Settlement in Bluffton, Indiana for Woman Killed When She Crossed Center-Line Into Path of Oncoming Speeding Semi-Truck