Falls on Snow & Ice in Indiana
Before You Listen to the Insurance Company, Hire a Slip-and-Fall Attorney
Don't listen to insurance companies that tell you that any fall on snow/ice in Indiana cannot result in compensation. Insurance companies love to tell you this because Indiana usually endures a significant amount of snow and ice each winter, making it so commonplace that Hoosiers are out-of-luck when they fall in winter because they "should have seen it coming" or "been more careful while walking" or any other type of propaganda nonsense. It is NOT true.
Falls on snow and ice are the single-most common type of fall, although they should not be. Nearly every slip-and-fall on ice that occurs where we live or where we shop/eat could have been prevented with proper maintenance of the premises by those responsible for keeping us safe. After all, businesses invite us on the property to "take" our money – is it too much to ask for those same businesses to spend a little bit of that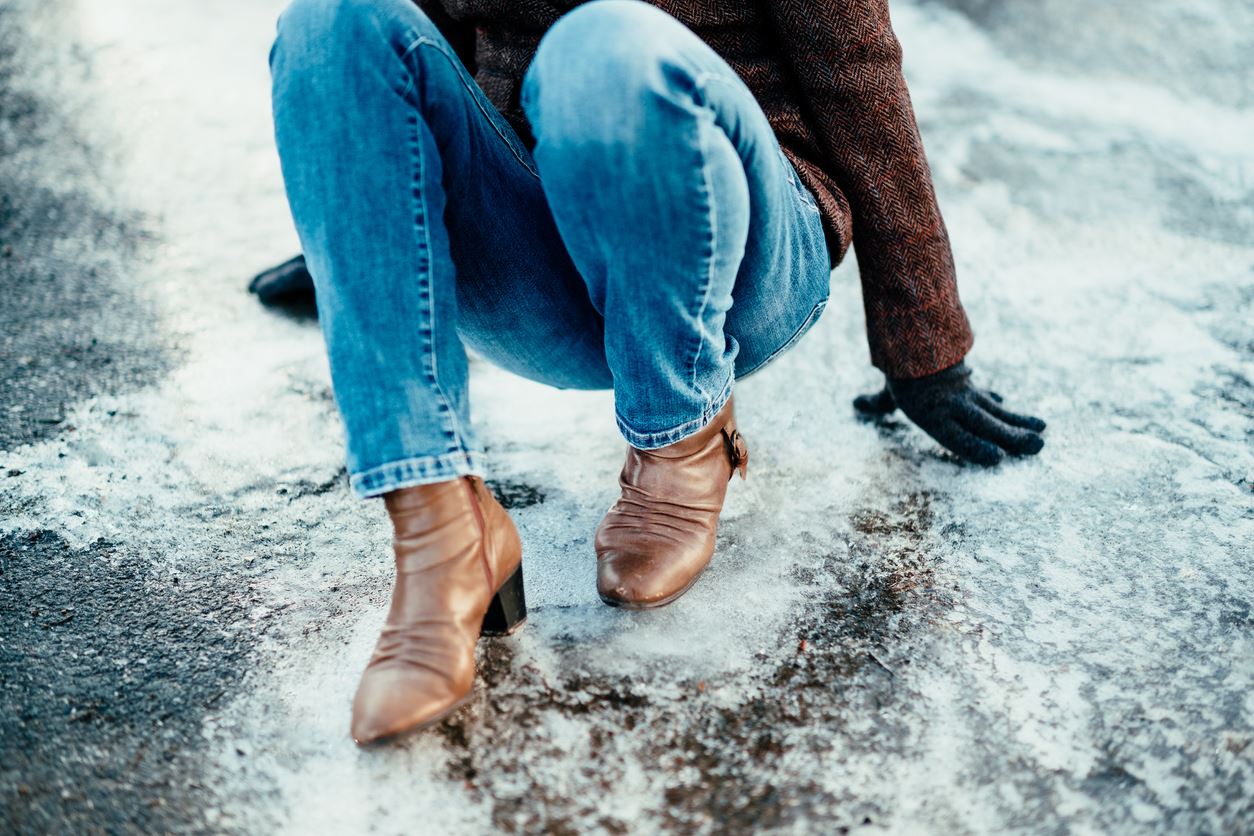 How Shaw Law Can Help Victims of Falls in Indiana
Here at Shaw Law, we examine snow plow contracts and invoices; records of salting; receipts for purchases of shovels and equipment; time cards of employees; inspection records; written guidelines of the company pertaining to preventing falls; and, most importantly, video footage of the day of the fall. With a close examination of those things, we are able to determine if you have a claim for compensation relating to your fall on snow or ice, whether where you live and sleep
(hotel, apartment complex), where you work (if there is a snow plow company), or where you shop and dine.
People who fall on snow or ice sustain serious injuries more than from any other causes – including fractures and traumatic brain injuries, some of which require necessary surgical interventions. Even death. Falling on snow or ice can be quite frightening if it leads to injuries, and a fall on snow or ice could mean time out of work, costly medical bills, and other financial losses.
If your slip and fall injury was caused by negligence, you may be entitled to compensation for your injuries. Call or text our experienced slip-and-fall lawyers to learn more about your rights: (260) 777-7777.
Shaw Law is a compassionate bodily injury law firm that has handled many different types of serious injury accidents occurring from falls on snow and ice. We have a proven track record of success and can help you work to recover compensation for your damages. If you or a loved one suffered injury from falling on snow and ice, call our slip and fall lawyers in Indiana for help.
Why Snow and Ice Are Dangerous to Pedestrians
Snow and ice can be quite dangerous for many reasons. Ice is slippery and is not always visible, meaning that victims may fall without warning. Because of this, owners must inspect their premises to ensure there are no hazards such as black ice or hard-to-see ice. It is no excuse to liability that the landowner or tenant did not see snow and ice when it is on a main walkway or stairway into a home or business.
Snow can pose a risk of slipping and falling, and when snow or ice melts, it can create a fall hazard. Snow can also be very slippery, especially after it has settled or been partially shoveled but not scraped or removed. Hard-to-remove snow needs to be made safe with traction aids like salt, sand, sawdust, or other friction agents to help people walk on it.
Business Owner's Obligations to Clear Snow and Ice
Business owners have an obligation in the state of Indiana to clear the sidewalks, parking lots and other areas of snow and ice to prevent slip and fall accidents. When a person falls on snow or ice, the court will determine if the business owner and/or owner of the land properly maintained their property.
Case law is used by Indiana courts to determine how long the ice or snow was present, how aware the business or landowner was of the storm, if proper caution signs were posted to warn others of wet floors inside buildings or other icy conditions in hard-to-see places, and if they cleared the ice or snow in a reasonable amount of time.
Common Injuries from Falling on Snow and Ice
There are many different types of injuries that can occur from a fall on snow or ice. Common injuries from these types of falls include the following:
Organ injuries
Other types of serious injuries, including wrongful death
Falls on Snow and Ice Can Be Catastrophic: Call Our Slip and Fall Lawyers in Indiana for Help
Victims who are injured by falls on snow and ice in Indiana should call our experienced slip and fall lawyers at Shaw Law for a FREE consultation to learn more about what your rights may be under the law.
To get in touch with a member of our team, dial (260) 777-7777 or by send us a message through our "Contact Us" box available here.
"A Lawyer you can count on."

- Kim