Falls Caused by Broken Floor Tiles: You Need a Lawyer Who Won't Trip You Up
The skilled tradesman look of the early 1900s in many businesses, courthouses, and government buildings is considered the "Golden Age" of the trade to this day.
No longer was the laborious and time-consuming art of laying tile, with its precise measurements and keen sense of style and layout, for only the most expensive buildings of the day.
Royal palaces and castles had exquisite tilework in the mid-1500s forward, but the common man often went his or her entire life without seeing a single tile.
But, by the mid-1900s, almost any brick-and-mortar store could afford tile work for restrooms, bathrooms, and lobbies hallways. Tile fell in price and the tiny tiles were replaced by bigger square inches – which were cheaper to make and easier to install with much less grout work.
Tile flooring was for everybody and no longer just a luxury for the rich in their homes or the fanciest of store owners shopping their wares.
And what wasn't to like about tile flooring?
Durability. Durability. Durability.
And easy to maintain and clean. Any old mop will do the trick to make it sparkle after any foot traffic or event.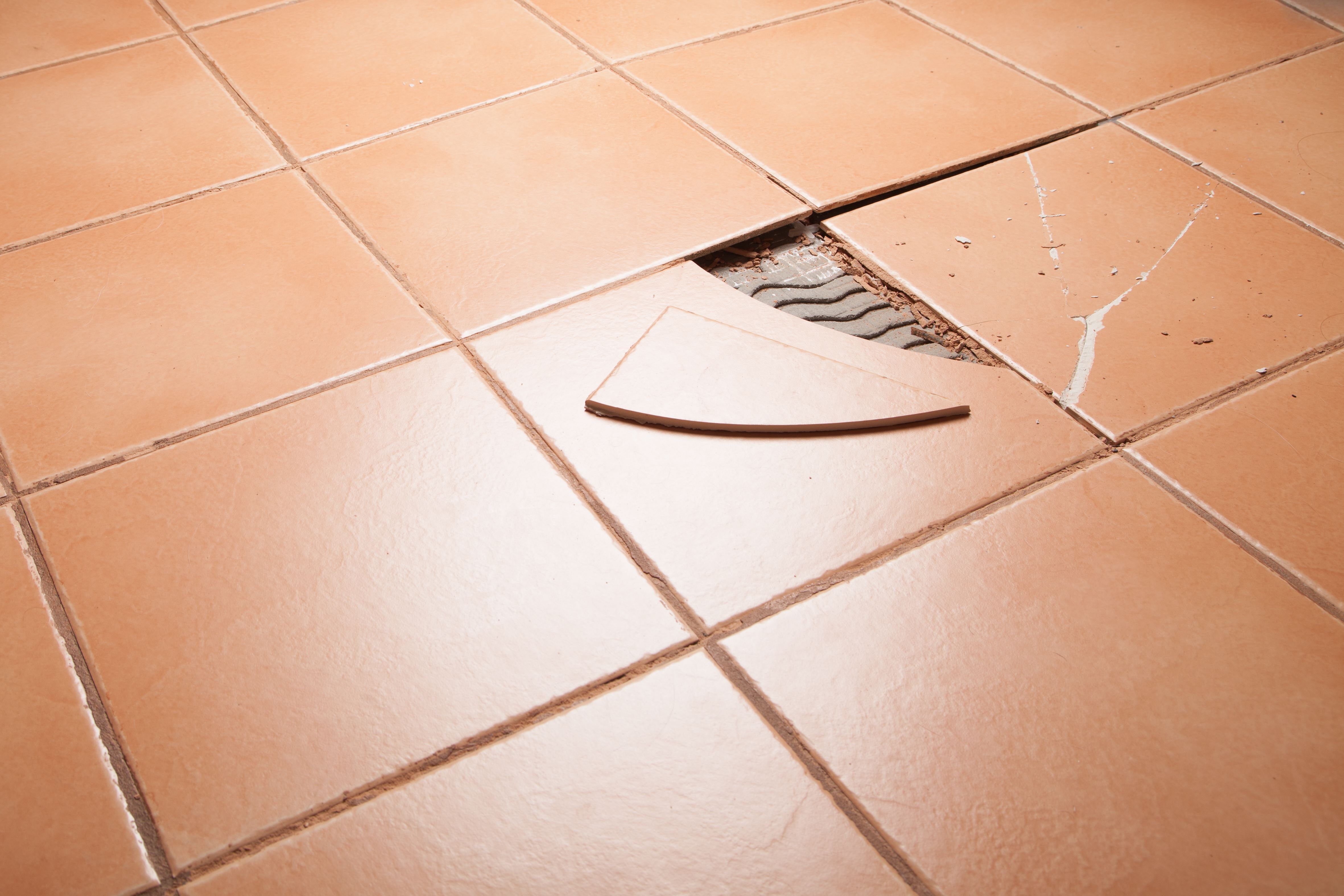 Tile floors could take the wear-and-tear of large numbers of customers and return to their original beauty and glory.
But there is no such thing as a "free lunch" – tile flooring caused another problem – they are slick to liquids depending upon the material or composite.
And tile flooring could cause trip hazards if the negligent shop owner or proprietor did not inspect them for broken or chipped tiles that could cause safety problems for the unsuspecting customer.
And that problem continues to the present day.
Tile is still the flooring of choice for most stores, schools, homes, libraries, and other places of business. While tile can be a suitable flooring choice for many reasons, if tile is improperly maintained it can pose a risk for injury. This is particularly true if tile becomes chipped or broken or otherwise a tripping hazard.
Injuries on the hard, cold tile floor from a standing position can cause horrific injuries of the worst kind. Head injuries and broken bones are common types of injuries that can occur from a fall on broken tile. Brain injuries, fractures and deaths have occurred.
Innocent visitors, invitees, guests, and customers who have suffered serious personal injuries in falls on tile flooring need an experienced trip-and-fall or slip-and-fall attorney like Jeff "JJ" Shaw – for over 33 years handling Hoosiers falls to victory. Here at Shaw Law, we understand how devastating it can be after being injured in a trip-and-fall or slip-and-fall caused by broken tiles or flooring. Our skilled team of lawyers and paralegals are ready and willing to help you by protecting your rights and recovering you the compensation that you truly deserve.
According to the World Health Organization, falls are the second leading cause of death in individuals worldwide. There are many different causes of falls, with broken tiles and flooring being amongst some of the most common causes. Falls on broken tiles or flooring can be catastrophic, leaving victims with severe injuries or even permanent disabilities. In severe cases, innocent people could be wrongfully killed. Victims should call our experienced slip-and-fall lawyers in Indiana for help after a trip-and-fall on broken tiles or flooring to protect their rights to compensation.
Consultations with our friendly lawyers in Indiana are entirely FREE. There is no obligation to sign up at a consultation, we have no upfront fees, and we only get paid after you get paid in a settlement, verdict, or another type of award. Schedule a FREE consultation with Shaw Law today.
Causes of Broken Tiles or Flooring that Could be Slipping or Tripping Hazards
There are many ways in which tiles or flooring can become broken, leading to slip-and-fall or trip-and-fall accidents. The most common causes of broken tiles and flooring includes the following:
Improperly spaced joists
Heavy furniture
Heavy appliances
Environmental causes
Defective tiles
Poor installation of tiles
Poor quality of flooring
Heavy impacts
Other causes
Who Is Responsible for Broken Tiles or Flooring?
Determining who is responsible for your fall on tile can be complicated.
Is it the business owner?
The landowner?
The Property Manager?
Can it be all 3?
Determining fault can be complicated, but often the property owner or manager are at fault or at partial fault for your fall. If it can be shown that the other party was aware of the hazard but did not fix it or warn others of the hazard, they can be held responsible for your injuries.
Shaw Law will do a careful and thorough examination of all business leases to determine the duties and what should have been done.
Common Injuries Caused in a Fall on Broken Tiles or Flooring
Victims who fall on broken tiles or flooring are at risk for many types of injuries. Some of the most common injuries we see our clients who fall on broken tiles or flooring sustain include the following:
Victims Injured in Falls on Broken Tiles or Flooring Need Help from Shaw Law: Our Slip-and-fall Lawyers in Indiana Can Get You Back on Your Feet
If you or your loved one have been injured in a trip-and-fall or slip-and-fall due to broken tiles or flooring, call an experienced slip-and-fall lawyers in Indiana as soon as possible. If your injuries were caused by another individual's negligence in repairing hazardous flooring or failing to warn you about the hazard, you may be entitled to compensation for your injuries.
Victims who were injured in falls on broken tiles or flooring should call our experienced slip-and-fall lawyers in Indiana at Shaw Law with a no-risk and no-cost evaluation by calling (260) 777-7777 or by sending us a message.
"A Lawyer you can count on."

- Kim