Facial Trauma, Broken Facial Bones, Eye Injuries After a Slip and Fall
Suffering a Facial Trauma After a Slip and Fall Will Require Our Experienced Slip and Fall Lawyers in Indiana
A slip, trip, and fall accident could cause many different types of injuries. One of the potentially most catastrophic is facial trauma. Not only do facial injuries typically result in serious damage, but they also result in both physical and emotional damages. Most also result in significant financial harm too, usually in the form of lost wages and medical bills. There are many different types of facial trauma after a slip and fall, all which should be carefully evaluated by our experienced slip and fall lawyers in Indiana.
Here at Shaw Law, our personal injury law firm has handled some of the most catastrophic types of personal injuries including facial trauma after a slip and fall accident. Whether the facial injuries are related to tissue, nerve, eye injuries, or other types of harm, our slip and fall lawyers in Indiana will work with your treating physicians and may hire experts to help prove your damages and liability against a defendant.
Learn how we can help you during a FREE consultation with our experienced and passionate bodily injury law firm by calling (260) 777-7777.
What is Facial Trauma?
Any type of physical injury or trauma to the face is known as facial trauma. Also known as maxillofacial trauma, this type of trauma can include many different types of injuries to the face. This includes some of the following types of injuries:
Nerve injuries
Soft tissue damage
Burn injuries
Lacerations or significant disfigurement
Bruises, swelling, or edema
Fractures or broken bones
Eye injuries
Nose or ear injuries
Permanent loss of hair
Bell's Palsy
TMJ or jaw injuries, and
Many other serious personal injuries that our slip and fall lawyers in Indiana may be able to recover compensation for you in a lawsuit.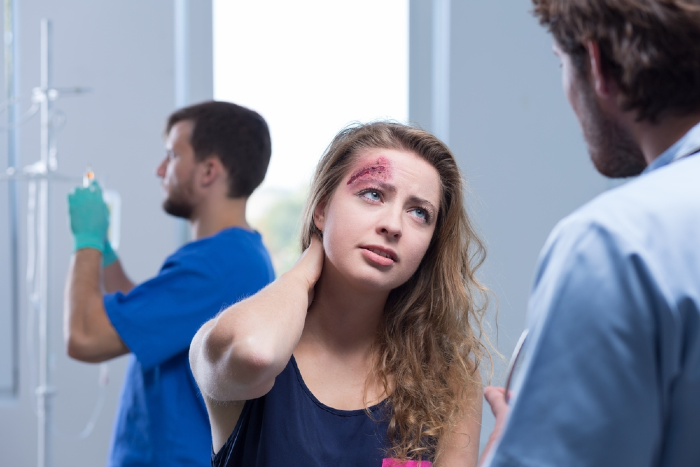 How is Facial Trauma Caused by a Fall?
There are a few ways that a victim of a slip and fall may suffer facial trauma. Some of the most common ways include the following:
Falling Onto the Ground
An individual who is caused to slip and fall could be launched or otherwise fall onto the ground face-first. Landing on the ground face-first is dangerous for many obvious reasons. First, the force of impact is directly on the boney structures of the face. While the skull may be hard, the facial bones—particularly the orbital bones—are susceptible to fractures. Individuals who are falling face-first could suffer significant damage from the impact.
Second, individuals falling face-first could also strike other objects or pierce their face/impale their face on objects. This includes vegetable and trees, as well as decorations, lamps, and other objects on or around the ground. Individuals who fall into something sharp, jagged, or dangerous could suffer significant disfiguration or nerve injuries.
Falling Into an Object or Wall
When a person is caused to slip and fall into an object such as a wall, dresser, desk, or other large piece of furniture or apparatus, he or she could sustain catastrophic injury. This type of facial trauma after a slip and fall could cause both fractures as well as piercing injuries. Injuries falling into an object like a wall could suffer a whole host of injuries besides facial trauma.
Causes of Slip and Falls Resulting in Facial Trauma
Our slip and fall lawyers in Indiana know that there are many different ways that a person could suffer facial trauma from a fall. Some of the most common causes of falls that can cause facial injuries include the following:
Ripped carpets
Product spills
Debris or garbage on the floor
No handrails, and
Other common defects that are dangerous to innocent people.
Call Our Slip and Fall Lawyers in Indiana For Help If You Have Facial Trauma After a Slip and Fall
Our experienced slip and fall lawyers know that facial trauma after a slip and fall can have significant physical, emotional, and financial repercussions for a victim and his or her family. If you or a loved one suffered any type of facial trauma such as broken bones, soft tissue injuries, nerve damage, TMJ, or any other injuries,
Please call Shaw Law to learn how we can help you by dialing (260) 777-7777 or by sending us a message through our "Contact Us" box available here. We offer FREE consultations and can advise you on both the law and medicine to determine what your rights may be under the law.
DEFENDING THE COMMUNITY SINCE 1989
Read Our 5-Star Reviews
A Lawyer you can count on. - Kim

Not just the lawyers you need, but the lawyers you WANT. - Tristen K

Jeff Shaw was Very Professional - Shelby Kunes

Attorney Shaw got me a fair settlement, much more than I thought we were going to get. - Randy & Kathy M

I Told Him He Now Felt Like a Member of Our Family More Than Our Attorney. - Stephanie B.
$5,000,000 Verdict in Indianapolis, IN

Bicyclist Struck by Indianapolis School Bus (independent contractor) Awarded $5M by Indianapolis Jury (Upheld by Verdict, $4.4M Paid)

$3,040,000 Verdict in Gary, IN

Blackjack Dealer Awarded for Slip and Fall on Ice in Trump Casino Parking Lot

$1,750,000 Verdict in Hammond, IN

Child Dies in Fire, Landlord Failed to Provide Adequate Smoke Detectors

$1,460,000 Verdict Near the Ozarks of Missouri

Sheriff's Deputy who Collides With Improperly Transported Manufactured Home Convoy

$750,000 Settlement for Paralyzed Man Shot at Indy Gas Station

Man Shot and Paralyzed at Gas Station by Unknown Assailant from Unruly Crowd That Gathered After Murder of Person the Night Before at Same Site

$750,000 Settlement in Indianapolis, IN

$750,000 Settlement Slip and Fall Indianapolis Woman Falls on Water in Produce Section of Indianapolis Grocery Store Breaking Leg.

$750,000 $750,000 Verdict in Delphi, IN

$750,000 Verdict for Lady in Golf Cart Struck by Drunk Driver Awarded by Jury in Carroll County

$605,000 $605,000 Verdict in Valparaiso, IN

$605,000 Verdict - Child Awarded for Facial Scarring When Landlord Failed to Cover Exposed Hot Water Pipe in Living Room

$500,000 $500,000 Verdict in Kokomo

$500,000 Verdict for Woman Slip and Fall in Domino's Pizza Restaurant on Water (Reduced to $375,000)

$500,000 $500,000 Settlement in Bluffton, IN

$500,000 Wrongful Death Settlement in Bluffton, Indiana for Woman Killed When She Crossed Center-Line Into Path of Oncoming Speeding Semi-Truck