Skull Fractures With and Without Brain Bleeds After a Slip and Fall
Victims Who Suffered a Skull Fractured After a Slip and Fall Should Call Our Slip and Fall Lawyers in Indiana
Skull fractures are serious injuries with potentially life-altering consequences. Brain bleeds and hematomas often accompany a skull fracture after a slip and fall. This can lead to traumatic brain injuries with devastating consequences for the injured person.
Slip and fall incidents sadly happen all too often. Slip and fall incidents can cause many types of injuries and a skull fracture being one of the most serious types of injuries after a fall. Recovery from a skull fracture can be quite lengthy, sometimes requiring surgery for more severe cases. More severe skull fractures can cause lengthy recovery, with the need for surgery, potential for prolonged hospital stay, high medical bills, months of disability, and serious pain and suffering.
Most skull fractures due to slip and fall incidents are entirely preventable, meaning that a victim of a skull fracture after a slip and fall injury could have been spared from the injury if reasonably safe precautions had been in place. If you or somebody you know has suffered a skull fracture from a slip and fall, you should contact experienced slip and fall lawyers in Indiana who can review your case to determine what compensation you may be eligible for as a result of your injuries.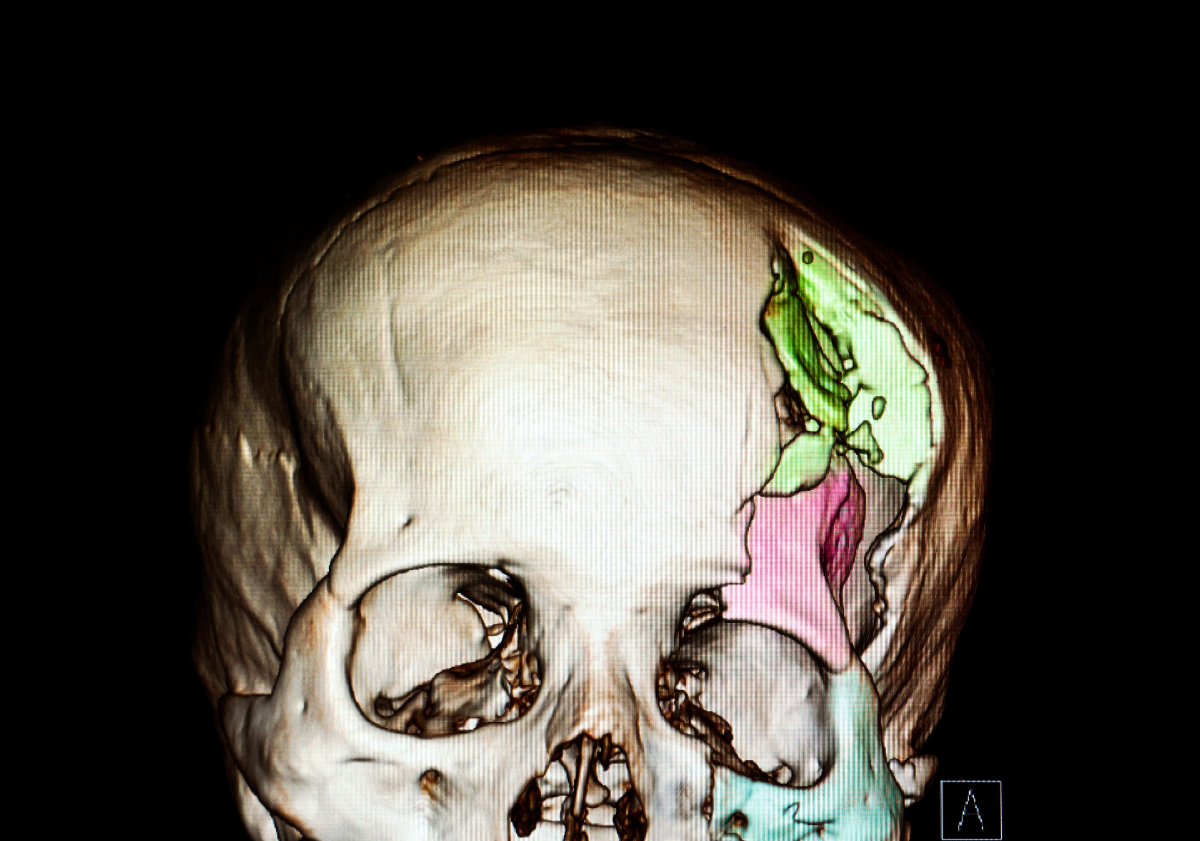 What is a Skull Fracture?
Simply put, a skull fracture is a break in the skull bone. However, there are different types of skull fractures that can occur as a result of a slip and fall injury. Generally, there are two main types of fractures. An open fracture is also referred to as a compound fracture. This type occur when the skin is broken and a piece of the skull bone emerges. A closed fracture is often referred to as a simple fracture. With this type of fracture, the skin is not broken, and only the bone is fractured.
Other types of skull fractures include a basal fracture which occurs at the floor of the skull. The floor of the skull refers to the top of the neck near the spine, or the ears, nose or areas around the eyes. A depressed fracture occurs when the skull indents or extends into the brain cavity. Other types of skull fractures include comminuted fracture or linear fracture.
How Do Skull Fractures Occur in Slip and Fall Incidents?
Skull fractures can occur in a variety of ways due to a slip and fall incident. Common causes include the following:
Snow and ice
Slipping or tripping on a hole in the ground
Falling down a flight or stairs
Slipping on a spilled product
Debris on the floor
Garbage on the floor
Unlevel flooring
Bunched up carpets
Wet stairs or walking surfaces
Excessive use of floor wax or cleaning supplies, and
Other causes of skull fractures due to slip and all incidents.
To learn more about our services, contact us to schedule a FREE consultation with our compassionate and experienced team.
What are the Symptoms of Skull Fractures?
There are certain signs and symptoms that can indicate a person is suffering from a skull fracture. These signs and symptoms include the following:
Visible skull bone showing in the case of an open fracture
Bruising behind the ears, known as battle's sign
Bruising under the eyes, referred to as raccoon eyes
Bruising around the site of trauma
Bleeding from the wound, near the wound or around the eyes, or from the ears and nose
Severe pain
Swelling at the site of fracture
Warmth or redness at the site of fracture
Other symptoms that may indicate a victim is suffering from a skull fracture includes the following:
Nausea
Headache
Vomiting
Blurred vision
Confusion
Fainting
Impaired balance
Stiff neck
Pupils not appropriately reacting to light
Irritability
Abnormally excessive drowsiness
What Damages May a Person with a Skull Fracture Be Eligible for Due to a Slip and Fall Injury?
As mentioned above, skull fracture due to a slip and fall injury can be quite traumatic. A person choosing to seek legal counsel after experiencing a skull fracture due to a slip and fall injury may be eligible or the following damages:
Pain and suffering
Medical bills
Lost wages
Lost future earnings
Loss of consortium
Need for nursing care (now or in the future)
Ambulatory devices and mobility assistance devices
Home or vehicle modifications
Emergency medical service costs
Rehabilitation costs
Punitive damages
Property damage, and
Other damages as a result of a fracture after a slip and fall in Indiana.
Victims Who Suffered a Skull Fracture After a Slip and Fall in Indiana Should Call Our Law Firm
Here at Shaw Law, our experienced slip and fall lawyers in Indiana have handled some of the most severe personal injury cases—including head injury cases like skull fractures. We can help you and your family recover compensation for your injuries after a severe slip and fall resulting in any type of skull fracture or head injury, including damages for conscious pain and suffering, lost wages, medical bills, loss of consortium, and other damages.
Skull fractures and head injuries are very serious. Do not try to handle these types of cases alone, and do not just call any lawyer.
If you or a loved one suffered a skull fracture after a slip and fall in Indiana, call our experienced slip and fall lawyers at (260) 777-7777 for a FREE consultation to learn what your rights may be under the law.
DEFENDING THE COMMUNITY SINCE 1989
Read Our 5-Star Reviews
Not just the lawyers you need, but the lawyers you WANT. - Tristen K

Jeff Shaw was Very Professional - Shelby Kunes

Attorney Shaw got me a fair settlement, much more than I thought we were going to get. - Randy & Kathy M

I Told Him He Now Felt Like a Member of Our Family More Than Our Attorney. - Stephanie B.

Your Law Firm Is Number One in Indiana. You Receive an A+ in My Book. - April H.
$5,000,000 Verdict in Indianapolis, IN

Bicyclist Struck by Indianapolis School Bus (independent contractor) Awarded $5M by Indianapolis Jury (Upheld by Verdict, $4.4M Paid)

$3,040,000 Verdict in Gary, IN

Blackjack Dealer Awarded for Slip and Fall on Ice in Trump Casino Parking Lot

$1,750,000 Verdict in Hammond, IN

Child Dies in Fire, Landlord Failed to Provide Adequate Smoke Detectors

$1,460,000 Verdict Near the Ozarks of Missouri

Sheriff's Deputy who Collides With Improperly Transported Manufactured Home Convoy

$750,000 Settlement for Paralyzed Man Shot at Indy Gas Station

Man Shot and Paralyzed at Gas Station by Unknown Assailant from Unruly Crowd That Gathered After Murder of Person the Night Before at Same Site

$750,000 Settlement in Indianapolis, IN

$750,000 Settlement Slip and Fall Indianapolis Woman Falls on Water in Produce Section of Indianapolis Grocery Store Breaking Leg.

$750,000 $750,000 Verdict in Delphi, IN

$750,000 Verdict for Lady in Golf Cart Struck by Drunk Driver Awarded by Jury in Carroll County

$605,000 $605,000 Verdict in Valparaiso, IN

$605,000 Verdict - Child Awarded for Facial Scarring When Landlord Failed to Cover Exposed Hot Water Pipe in Living Room

$500,000 $500,000 Verdict in Kokomo

$500,000 Verdict for Woman Slip and Fall in Domino's Pizza Restaurant on Water (Reduced to $375,000)

$500,000 $500,000 Settlement in Bluffton, IN

$500,000 Wrongful Death Settlement in Bluffton, Indiana for Woman Killed When She Crossed Center-Line Into Path of Oncoming Speeding Semi-Truck