Falls on Slick Floors Like Oil and Grease in Restaurant Restrooms, Painted Wood Stairs or Other Floors Without Friction Stripes or Grip Decals
You've all heard the term before "slick as ice."
We use it to describe something that is slick and dangerous, but rarely do we think about what it means.
Did you know that ice is not the slickest surface a person can encounter in daily life?
Often, an unsuspecting customer will encounter liquid on a tile or stone floor or a freshly mopped floor or even a spilled liquid that is considered "slicker than ice."
Restaurant restrooms and bathrooms are notoriously slipperier than ice, due to the presence of cooking oils and grease that get mopped up with the same mops later used to clean restrooms and bathrooms.
The catastrophic fall by a customer, guest or visitor to a public bathroom or restroom is no laughing matter – the mixture of oil, grease and water can be a hazardous one for anybody.
This scientific concept is known as "co-efficient of friction."
And it can be tested – even after a fall – by expert witnesses known to Shaw Law in the investigation stage of your claim to help prove "fault" or "negligence" on the part of the landowner or business owner where you fall upon a slick floor.
Furthermore, national safety guidelines have suggested acceptable measurements for the co-efficient of friction for businesses, government buildings like airports and hospitals and other places where the public is expected to be.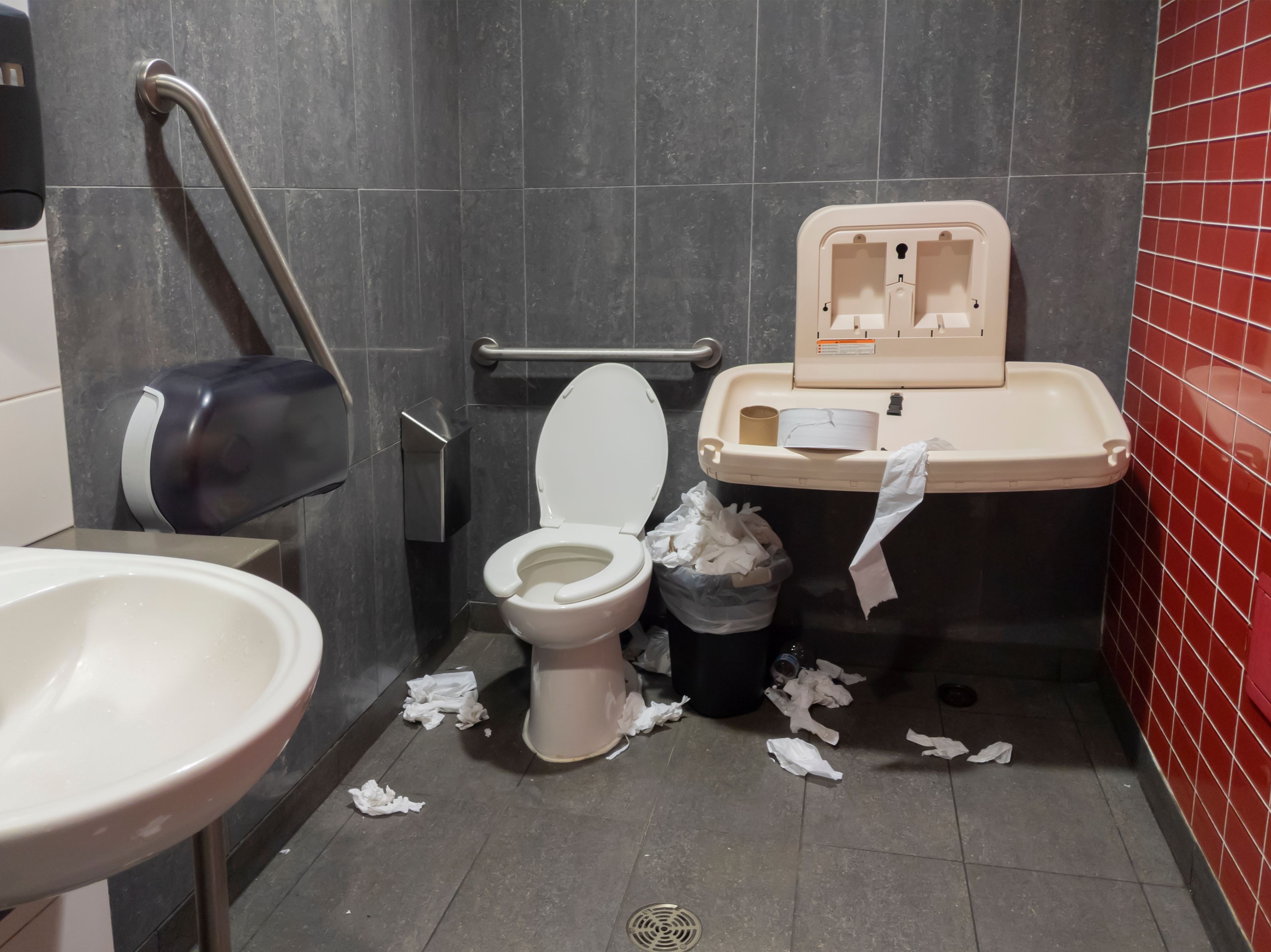 If a landowner or business owner or property manager fails to meet these permissible standards – then they might be held liable for a fall in a court of law.
It has been known for years that some floors can be more slippery than others for a variety of reasons. Even a seemingly dry floor can be "too slippery" if it is covered in fine sand or other contaminants such that its condition is considered legally "defective." This can occur for many reasons, including the type of cleaning agents used upon a floor, when it was dried, if it was still dirty and other factors.
The first known study to test slipperiness of floors occurred in a famous study by the United States Department of Commerce, National Bureau of Standards in its 1948 study "Measurement of the Slipperiness of Walkway Surfaces." This study was the first to use a pendulum-impact type device to measure slipperiness that has become the gold standard today in the industry. This ingenious study determined that most people who slip and fall do so when their front heel hits the ground – like a pendulum – so the device was used. The findings have become standardized questions in the investigations of today's slip-and-falls – rubber heels are better than smooth leather soles, many floors are more slippery wet than dry and rough particles added to the walkway surface help reduce slipperiness when wet.
Falls unfortunately occur all too often, with falls being the number two cause of accidental injury deaths worldwide. One cause of falls that can occur due to the negligence of another individual is falls on painted wood stairs without friction stripes.
Similarly, a fall down the stairs, especially a set of stairs without traction often causes victims serious or even fatal injuries. The reason why this is such a unique and important cause for falls is because painted wood stairs are inherently dangerous when there are no friction stripes, and it gets wet. While it might sound rare, in certain areas like on decks or near pools, falls on painted wood stairs without frictions stripes could be due to the negligence of a landowner, tenant, contractor, or maintainer. When this happens to you, call our experienced slip-and-fall lawyers for help.
Here at Shaw Law, our compassionate and skilled team of attorneys are ready to help you recover compensation for your injuries. You never should have to suffer financial losses due to another person's mistake or failure to ensure that their building, home, or other place of business is free of hazards.
Our attorneys understand how devastating the injuries can be from a fall on painted wood stairs without friction stripes, and how friction stripes are required on painted wood stairs to prevent falls, meaning your fall could have been entirely avoided had the property owner abided by building code. Schedule a FREE consultation with Shaw Law today.
Why Falls on Painted Wood Stairs Are Dangerous
Painted wood stairs pose a significant risk for falls, given that they are far more slippery in nature than other types of stairs. This is especially true when stairs are in a place where stairs can become wet or moist (i.e., pools). Building Code requires that friction stripes be placed on wooden stairs to prevent falls or minimize the risk for falls. This helps prevent a person with a wet foot or shoe from slipping, or where a painted stair is slippery from slipping. Friction stripes on painted wood stairs are very important and necessary to help prevent innocent people from falling.
Who is Responsible for Falls on Painted Wood Stairs Without Friction Stripes
As mentioned above, friction stripes are required by building code. Therefore, installers of wooden stairs should always place friction stripes upon installation of the stairs. Additionally, landowners, pool owners, and maintainers of the property are also responsible to ensure that the property is free of hazards, including stairs on the property.
Common Injuries for Those Who Fall on Painted Wood Stairs
Victims who fall on painted wood stairs often sustain serious or even fatal injuries. Oftentimes, victims require surgery, prolonged hospitalization, or may even face permanent disability. Some of the most common injuries seen in victims of falls on painted wood stairs include the following:
Internal bleeding
Internal organ damage or injury
Victims Hurt in Falls on Painted Wood Stairs Without Friction Stripes Need to Call our Slip-and-fall Lawyers in Indiana
Falling down a set of painted wood stairs without friction stripes can be catastrophic or fatal. Victims injured in a fall on painted wood stairs may suffer significant injury, lost wages due to their injuries, loss of their job due to being unable to perform their job, as well as many other losses physically, emotionally, and financially. Our slip-and-fall lawyers in Indiana understand the losses victims suffer and understand how avoidable these accidents are. Our team of lawyers and paralegals are here to help you get back on your feet, while recovering you the compensation that you deserve.
Victims who were injured in falls on painted wood stairs without friction stripes should call our experienced slip-and-fall lawyers in Indiana at Shaw Law to schedule a FREE consultation by calling (260) 777-7777or by sending us a message.
"A Lawyer you can count on."

- Kim