Lacerations, Wound Care and Scars After a Slip and Fall
Did You Suffer Horrific Cuts, Disfigurement, or Lacerations After a Slip and Fall in Indiana? Call our Slip and Fall Lawyers for Help
Lacerations can be extremely painful and disfiguring after a slip and fall. Many lacerations do not heal correctly (especially with diabetic patients) and this can lead to "wound care" specialists who try and heal the gaping wound. Infections can occur and devastating consequences or minor lacerations are a real concern for the young and elderly alike.
While slip and fall incidents are generally preventable, they still occur every day in Indiana. Injuries from a slip and fall incident vary, with some being minor to others being more serious. While cuts and bruises are generally considered minor injuries, there are times when victims of slip and fall incidents sustain more serious lacerations that can lead to other serious or even permanent complications or injuries. Some lacerations could result in significant scarring or even disfigurement. For this reason, it is wise to contact an experienced slip and fall incident lawyer in Indiana if you suffered from significant lacerations from a slip and fall incident.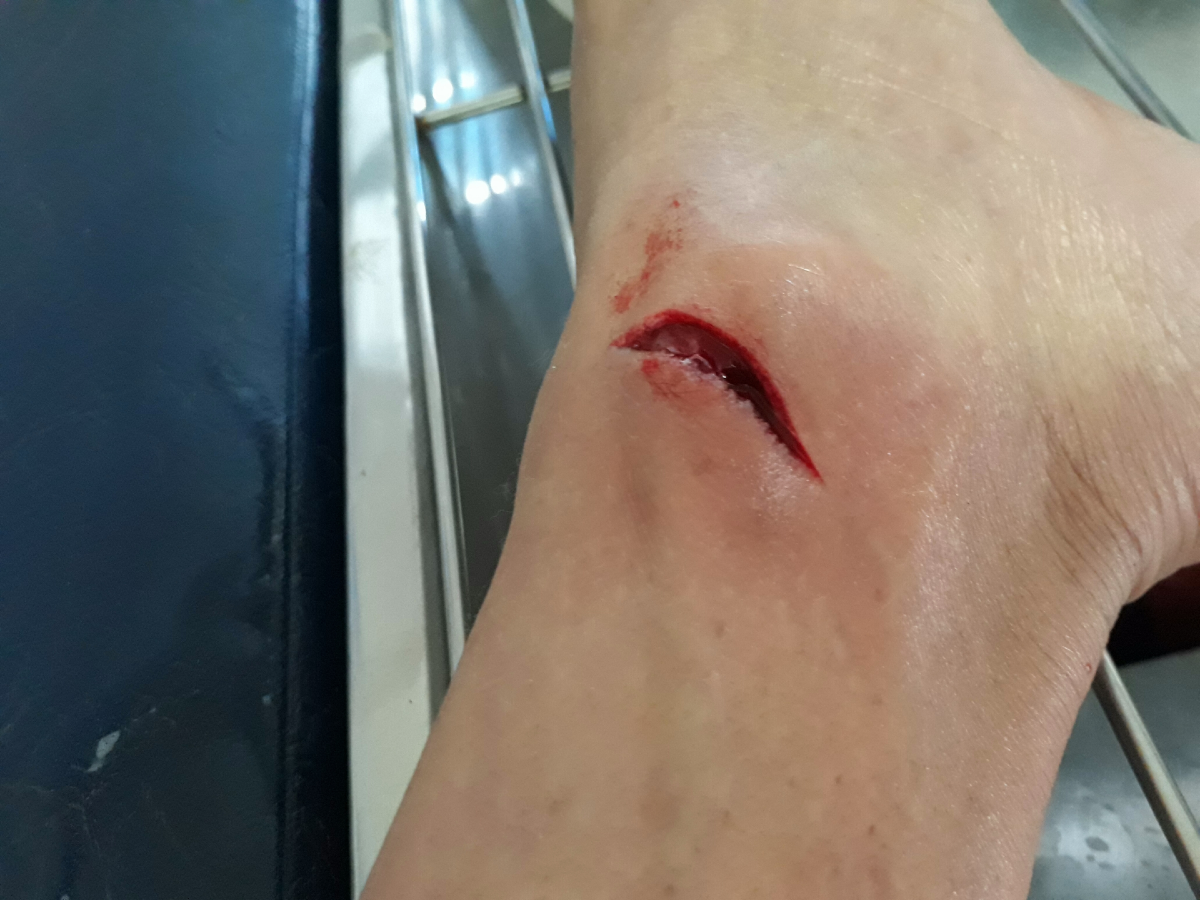 What is a Laceration?
According to John Hopkins Medicine, a laceration is a skin wound. People also refer to a laceration as a cut. While some cuts are minor, deeper lacerations can be quite serious, leading to damage of the nerves, muscle, skin, soft tissue, and in some cases loss of body parts.
How is a Laceration Diagnosed?
Lacerations are diagnosed by physical exam. If other body parts are suspected to be involved, imaging may be necessary. Imaging may also be necessary to look for foreign objects or debris in the wounds.
How are Lacerations Treated?
Treatment of a laceration greatly depends on the area of the body involved, if any other parts of the body are affected, and the severity of the laceration. Treatment typically involved stopping any bleeding that's occurring, cleaning the laceration and dressing the laceration. Stitches are needed in some cases.
For severe cases, amputations are sometimes necessary. Severe types of lacerations such as a degloving injury may require surgery to reattach skin or to use a skin graft to replace skin that was lost. Cosmetic surgery may later be required for certain lacerations.
If you or a loved one were seriously injured, contact us to schedule a FREE consultation with our compassionate and experienced slip and fall lawyers in Indiana to learn what your rights to compensation may be under the law. Significant lacerations after a slip and fall incident should not be ignored, and you can obtain compensation for your damages.
How Do Lacerations Occur Due to Slip and Fall Incidents?
Lacerations are unfortunately a quite common injury in slip and fall incidents. Lacerations or any other injury due to a slip and fall is an untreated hazardous condition. If an individual, company or other entity fails to treat, fix, or warn of a hazardous condition and an individual falls and injures themselves, they could be liable for injuries the person sustained in the incident. Common hazards that cause slip and fall incidents include the following:
Wet floors due to being freshly mopped, or not properly cared for after snow, ice, or rain
Failure to place a caution sign after mopping a floor or if a floor is wet due to inclement weather
Poor lighting
Gravel
Debris
Failure to clean up a liquid spill
Loose floorboards
Waxed floors with no caution sign
Loose mats, and
Any other locations or causes of slip and fall incidents in Indiana.
Why Should You Seek Legal Counsel If You Suffered a Laceration After a Slip and Fall Incident?
If you suffered a laceration that required treatment, you may want to seek legal counsel. This is because you should not have to pay for any medical treatment that was required as a result of your fall. Not only that, but if your laceration was more serious, it may have caused scarring or disfigurement, or may require surgery. More severe lacerations may lead to prolonged time out of work, loss of wages, or even the need for physical rehabilitation. You should not have to pay for the mistake of another individual that led to your slip and fall incident.
Of course, you may also be entitled to compensation for conscious pain and suffering too. This is the agony and pain that you suffered and felt from the incident causing your injuries.
If You Suffered a Laceration After a Slip and Fall in Indiana, We Can Help You
Here at Shaw Law, we know how important it is for victims and their families to recover compensation for their personal injuries after a slip and fall or trip and fall incident. We can help you and your family recover compensation for medical bills, lost wages, and conscious pain and suffering.
Our team can help you after any type of personal injury incident, especially when you suffering with a significant laceration after a slip and fall in Indiana.
Call our experienced slip and fall lawyers in Indiana at (260) 777-7777 for a FREE consultation to learn what your rights may be under the law.
DEFENDING THE COMMUNITY SINCE 1989
Read Our 5-Star Reviews
A Lawyer you can count on. - Kim

Not just the lawyers you need, but the lawyers you WANT. - Tristen K

Jeff Shaw was Very Professional - Shelby Kunes

Attorney Shaw got me a fair settlement, much more than I thought we were going to get. - Randy & Kathy M

I Told Him He Now Felt Like a Member of Our Family More Than Our Attorney. - Stephanie B.
$5,000,000 Verdict in Indianapolis, IN

Bicyclist Struck by Indianapolis School Bus (independent contractor) Awarded $5M by Indianapolis Jury (Upheld by Verdict, $4.4M Paid)

$3,040,000 Verdict in Gary, IN

Blackjack Dealer Awarded for Slip and Fall on Ice in Trump Casino Parking Lot

$1,750,000 Verdict in Hammond, IN

Child Dies in Fire, Landlord Failed to Provide Adequate Smoke Detectors

$1,460,000 Verdict Near the Ozarks of Missouri

Sheriff's Deputy who Collides With Improperly Transported Manufactured Home Convoy

$750,000 Settlement for Paralyzed Man Shot at Indy Gas Station

Man Shot and Paralyzed at Gas Station by Unknown Assailant from Unruly Crowd That Gathered After Murder of Person the Night Before at Same Site

$750,000 Settlement in Indianapolis, IN

$750,000 Settlement Slip and Fall Indianapolis Woman Falls on Water in Produce Section of Indianapolis Grocery Store Breaking Leg.

$750,000 $750,000 Verdict in Delphi, IN

$750,000 Verdict for Lady in Golf Cart Struck by Drunk Driver Awarded by Jury in Carroll County

$605,000 $605,000 Verdict in Valparaiso, IN

$605,000 Verdict - Child Awarded for Facial Scarring When Landlord Failed to Cover Exposed Hot Water Pipe in Living Room

$500,000 $500,000 Verdict in Kokomo

$500,000 Verdict for Woman Slip and Fall in Domino's Pizza Restaurant on Water (Reduced to $375,000)

$500,000 $500,000 Settlement in Bluffton, IN

$500,000 Wrongful Death Settlement in Bluffton, Indiana for Woman Killed When She Crossed Center-Line Into Path of Oncoming Speeding Semi-Truck