Falls on Uneven, Cracked, or Broken Sidewalks in Indiana
You've seen it on city sidewalks. You've seen it on residential sidewalks. You have probably seen it at a business. Sidewalks that buckle, sidewalks that crack and break, and sidewalks that settle into the ground - all of these sidewalks create dangerous conditions that can injure the unsuspecting pedestrian. And worst of all? These sidewalks are made for walking. It is designed to be the safest place for us to walk and avoid being struck by cars or other things. Yet, more people fall on broken sidewalks per year than any obstruction we might encounter inside a store.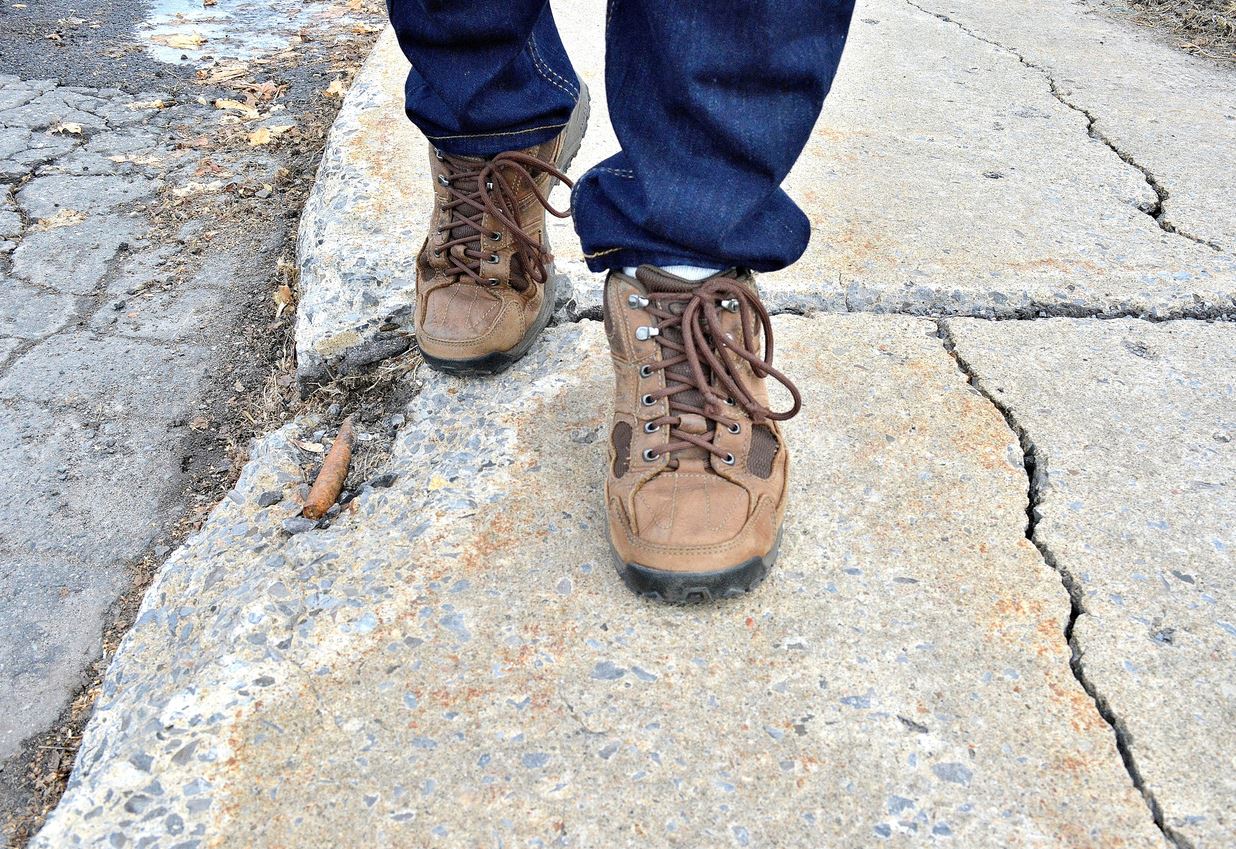 Who is ultimately responsible – the city? The homeowner? The installer? Somebody else? These are tricky questions for a lawyer who does not have over 33+ years of experience in handling defective sidewalk claims.
Trust Shaw Law. Attorney Jeff "JJ" Shaw has been handling trip-and-fall on broken sidewalks cases for decades. You can put your trust in the right law firm. Call us today at (260) 777-7777.
The Dangers of Uneven Sidewalks
Whether because of improper maintenance or improper construction, uneven sidewalks and walkways present a dangerous tripping hazard. Even though the edge of an uneven sidewalk or crack in the sidewalk may appear to be slight, if it is enough to catch your foot and cause you to fall, it is a dangerous and defective condition that could allow you to recover compensation for personal injuries.
Although most landowners, tenants, and their insurance companies will try to blame you for falling on an uneven sidewalk or "small" crack, you should know that Indiana law protects you—not a negligent landowners or tenant. This is why victims need to call experienced trip and fall lawyers in Indiana for help.
Here at Shaw Law, our compassionate and skilled team of paralegals and attorneys can help you and your family recover compensation after a slip and fall or trip and fall in Indiana. Whether you are unsure if you have a case or if you believe that you may have been partially at fault for your fall, call our resourceful team today to learn more about your rights and what compensation you may be entitled to under the law.
Contact us to schedule your FREE consultation with our experienced trip and fall lawyers today.
Common Causes of an Uneven Sidewalk
A sidewalk or walkway needs to be relatively flat and without hazards that could cause a trip and fall. The expectation of a sidewalk is that people walking on it can anticipate it being a smooth walking surface, allowing them to look at other things or hazards while walking. This means that an uneven sidewalk is a dangerous walkway.
The property maintenance code, statutory law, and common law (judge-made law) in Indiana all require landowners and tenants to keep their premises free of hazardous or dangerous defects, as well as to keep their walking surfacing in a reasonably safe condition. However, not everyone does this. Some property owners and maintainers fail to properly keep their premises in reasonable safe condition by allowing defects and other hazards to make sidewalks uneven.
Some of the most common causes of an uneven sidewalk that could cause you to trip include the following:
Improperly built sidewalks
Uplifted pavement from tree roots or other vegetation
Sinking pavement
Washed away pavement or soil under the pavement
Unrepaired sidewalk that is cracked, crumbling, separating, or damaged
Pipes, street signs, or other defects in the pavement that were there and removed, but the hole in the ground was not replaced
Damage in the pavement from motor vehicles
Crumbling pavement from the excessive use of salt or ice control agents
Other defects that can cause a fall on uneven sidewalk in Indiana
Common Injuries in a Trip and Fall on Uneven Sidewalk
Individuals who suffer personal injuries in a trip and fall or slip and fall may be entitled to compensation for their pain and suffering, medical bills, and lost wages. There are many possible types of personal injuries that could be caused in a fall on uneven sidewalk.
Some of the most common injuries include the following:
Torn muscles, tendons, or ligaments
Neck and back injuries
Head injuries
Slipped discs or herniated discs
Other serious or catastrophic injuries, including wrongful death
Were You Injured in a Trip and Fall on Uneven Sidewalk in Indiana? We Can Help.
If you or a loved one suffered serious personal injuries from a fall on uneven sidewalk in Indiana, call our experienced trip and fall lawyers at Shaw Law for a FREE consultation to learn more about what your rights may be under the law.
Dial (260) 777-7777 or by sending us a message through our "Contact Us" box.
"A Lawyer you can count on."

- Kim