Spinal Cord Injuries After a Slip and Fall
Our Slip and Fall Lawyers in Indiana Can Help If You Have Suffered a Spinal Cord Injuries After a Slip and Fall Accident
Falls can cause a variety of different injuries. While most slip, trip, and falls result in no injuries or cause minor harm, some falls can cause very serious, catastrophic, and disabling injuries. One type of injury is a spinal cord injury or SCI. According to the report published by the National Spinal Cord Injury Statistical Center (NSCISC), falls account for roughly one-third (1/3) of spinal cord injuries, making them the second most common type of spinal cord injury just behind vehicle crashes. Spinal cord injuries after a slip and fall are a medical emergency. Victims who suffer this type of injury should consult with an experienced slip and fall lawyer in Indiana.
Here at Shaw Law, our experienced slip and fall lawyers in Indiana can handle any type spinal cord injuries after a slip and fall accident. This includes paraplegia, quadriplegia, or any other type of paralysis.
If you for a loved one suffered any type of personal injury after a fall, contact us to learn how we can help you during a FREE consultation.
What is a Spinal Cord Injury (SCI)?
Spinal cord injuries are a medical emergency that happens when the bundle of nerves that runs the length of the spinal column is damaged. This damage means that the brain is no longer able to send the messages or signals to the rest of the body that communicate how and when to move. These messages control voluntary movements like walking or holding a pencil, or involuntary movements like breathing and blinking. The messages also govern sensation or feeling, including pressure, temperature, and pain.
There are generally two types of SCI:
Incomplete SCI - this is where there is damage to the spinal cord but it is not completely severed. This means that some function may continue below the damage, but there may be some limitations, weakness, or pain.
Complete SCI - this is where the damage is through the entire spinal cord, resulting in the cord being severed and the damage preventing any signals from being sent below the affected area.
Injuries and Problems from a SCI After a Fall
A slip and fall accident can have devastating consequences for a victim and for their family, especially if the accident results in a spinal cord injury. The fall can be so severe that the back's vertebrae may be dislocated, or the vertebrae may break or shatter. The resulting shards can rip or tear the spinal cord tissue, thereby interrupting or severing those messages from the brain. This is an example of a complete paralysis, because the victim will be paralyzed below the injury site and there is no way for the brain's communication for action to be transmitted to the body.
Or the shattered bone or crushed discs can suppress the communication signals if they are pressing on nerves. This type of resulting paralysis could be classified as incomplete because some signals are still able to get transmitted. In other words, the brain is no longer able to get the message delivered below the injury site to tell the body to move, although the victim may still have feeling in that area.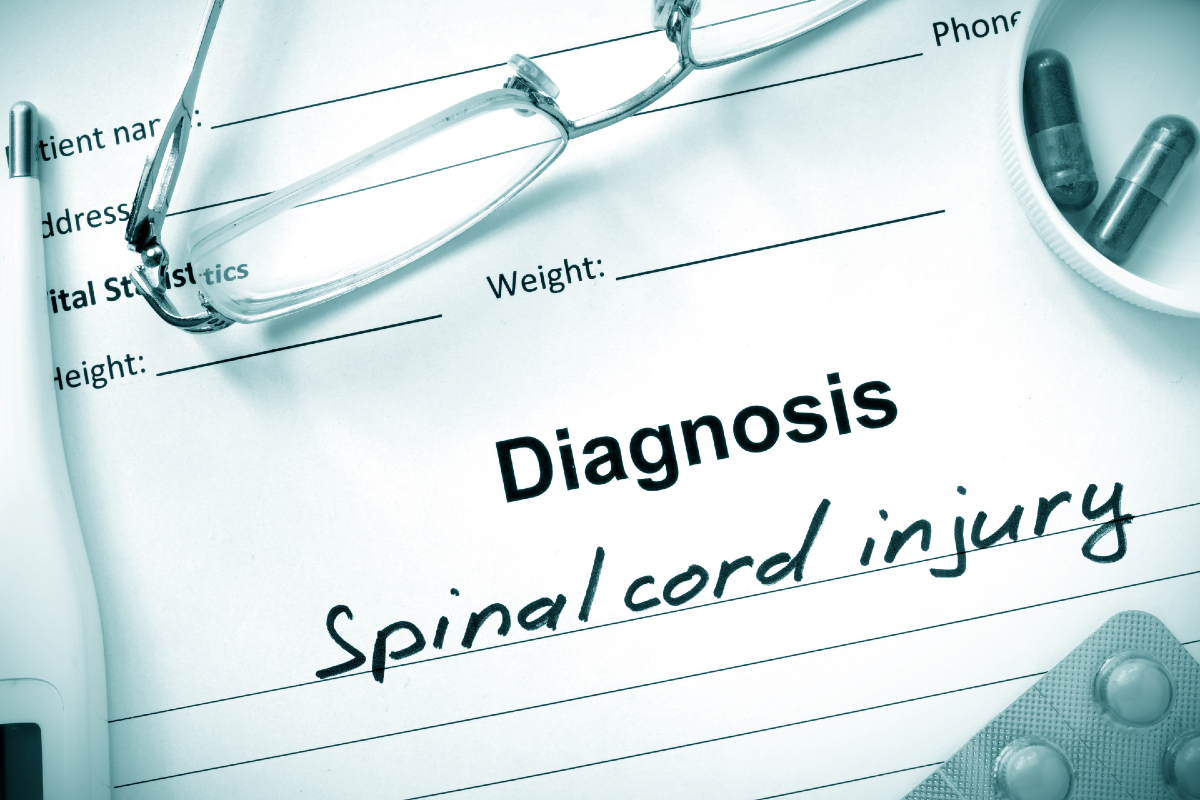 Places and Occurrences of SCI in Indiana
Our slip and fall lawyers in Indiana know that a spinal cord injury resulting from a slip and fall can happen almost anywhere to almost anyone, from a mother wiping out on a storefront's icy sidewalk on a wintery day to a customer at a store slipping on a wet floor. Severe slip and falls leading to spinal cord damage can also happen to vulnerable senior citizens left unattended in a bathtub at an assisted living facility.
However, the most severe cases of slip and fall spinal cord injuries happen happened at the workplace or on a work site. There are many opportunities for a worker, regardless of their job responsibilities or job title, to slip and to fall. The same holds true for a visitor to the workplace or job site, because these places can be chaotic, with slippery surface materials or spills that were left unattended. And it is easy to understand how a hazardous situation can arise when people are hurrying, because they can lose their traction and slip.
Long Term Complications After a Slip and Fall in Indiana
It is extremely rare that a victim of a spinal cord injury resulting from a slip and fall will ever be fully recovered to their pre-injury health state. They will likely need immediate emergency care and ongoing care for the rest of their life, even if the damage is partial or incomplete. They and their loved ones may suffer from mental anguish, loss of income, and loss of consortium. In addition, a home or a vehicle may have to be adapted for their use and comfort, adding to their expenses.
If You Suffered Spinal Cord Injuries After a Slip and Fall in Indiana, Call Shaw Law
Spinal cord injuries are one of the most serious and devastating types of personal injuries that an individual could suffer from in an accident. When that accident is avoidable and preventable, victims and their families may be entitled to compensation for their losses.
At Shaw Law, our experienced slip and fall lawyers in Indiana offer FREE consultations and only get our attorney's fees paid after we recover compensation for you in a settlement, verdict, or other award.
If you or a loved one suffered serious personal injuries or an SCI after a slip and fall in Indiana, contact us at (260) 777-7777 or message us to learn what your rights may be under the law.
DEFENDING THE COMMUNITY SINCE 1989
Read Our 5-Star Reviews
A Lawyer you can count on. - Kim

Not just the lawyers you need, but the lawyers you WANT. - Tristen K

Jeff Shaw was Very Professional - Shelby Kunes

Attorney Shaw got me a fair settlement, much more than I thought we were going to get. - Randy & Kathy M

I Told Him He Now Felt Like a Member of Our Family More Than Our Attorney. - Stephanie B.
$5,000,000 Verdict in Indianapolis, IN

Bicyclist Struck by Indianapolis School Bus (independent contractor) Awarded $5M by Indianapolis Jury (Upheld by Verdict, $4.4M Paid)

$3,040,000 Verdict in Gary, IN

Blackjack Dealer Awarded for Slip and Fall on Ice in Trump Casino Parking Lot

$1,750,000 Verdict in Hammond, IN

Child Dies in Fire, Landlord Failed to Provide Adequate Smoke Detectors

$1,460,000 Verdict Near the Ozarks of Missouri

Sheriff's Deputy who Collides With Improperly Transported Manufactured Home Convoy

$750,000 Settlement for Paralyzed Man Shot at Indy Gas Station

Man Shot and Paralyzed at Gas Station by Unknown Assailant from Unruly Crowd That Gathered After Murder of Person the Night Before at Same Site

$750,000 Settlement in Indianapolis, IN

$750,000 Settlement Slip and Fall Indianapolis Woman Falls on Water in Produce Section of Indianapolis Grocery Store Breaking Leg.

$750,000 $750,000 Verdict in Delphi, IN

$750,000 Verdict for Lady in Golf Cart Struck by Drunk Driver Awarded by Jury in Carroll County

$605,000 $605,000 Verdict in Valparaiso, IN

$605,000 Verdict - Child Awarded for Facial Scarring When Landlord Failed to Cover Exposed Hot Water Pipe in Living Room

$500,000 $500,000 Verdict in Kokomo

$500,000 Verdict for Woman Slip and Fall in Domino's Pizza Restaurant on Water (Reduced to $375,000)

$500,000 $500,000 Settlement in Bluffton, IN

$500,000 Wrongful Death Settlement in Bluffton, Indiana for Woman Killed When She Crossed Center-Line Into Path of Oncoming Speeding Semi-Truck