Knee Injuries After a Slip and Fall
Slip and Fall Lawyers in Indiana Can Assist After Suffering Knee Injuries From a Slip and Fall Accident
One of the most common injuries in a slip, trip and fall is a knee injury. Oftentimes the knee is either directly impacted or directly twisted or a manner which causes knee injuries after a slip and fall in Indiana. When the knee is bent or twisted too far, or receives direct hit, it could be damaged. Our slip and fall lawyers in Indiana know that a fall can certainly cause a damaged knee that can take from months to years to recover, and some injuries never fully healing. Some knee injuries may require surgery and rehabilitation, often resulting in permanent disability. Most of the time these personal injuries are preventable and avoidable if defendants properly maintained their premises.
If you or a loved one suffered any type of serious knee injuries after a slip in fall in Indiana, Shaw Law is the experienced choice that you need to help recover compensation for medical bills, lost wages, and for your conscious pain and suffering. Our compassionate and skilled team will work with your treating physicians and may hire liability experts to help prove your case.
Prevalence of Falls and Injuries
According to the National Floor Safety Institute, slips and falls account for over 1 million visits to the hospital emergency room each year. Most victims make a full recovery, especially after knee injuries. But even after recovery of a knee injury, a person may be instructed to make lifestyle changes to avoid activities that involve certain repetitive motions like deep knee squats and bending that would put undue pressure on the knee area.
This lifestyle change may deeply impact a person's occupation or career, recreational options, and even change parental dynamics and responsibilities in the home—especially with young children. The extent of the change depends on the type of knee injury and how damaged the structures in the knee are, as well as a victim's age, overall fitness, and if there are prior injuries.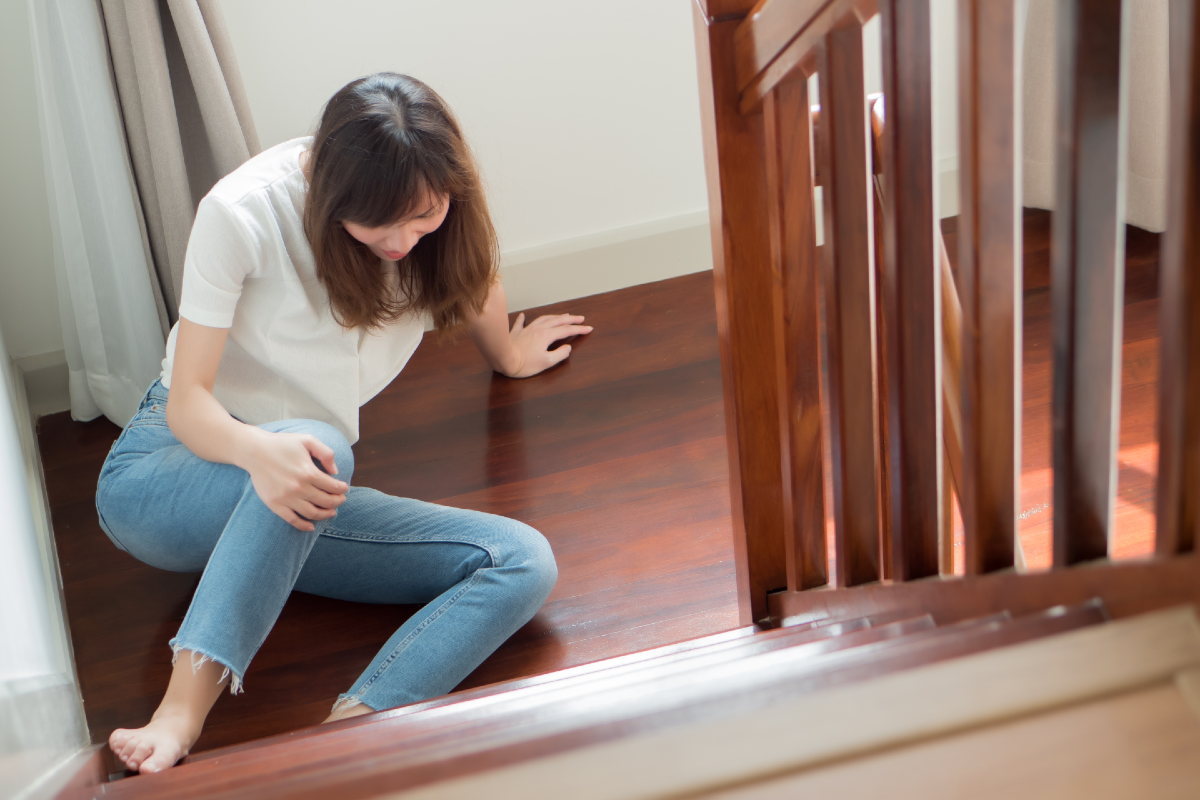 Types of Knee Injuries After a Slip and Fall in Indiana
There is a nearly endless list of knee injuries that could be caused in a slip, trip, and fall accident at a defendant's store, office, home, sidewalk, stairs, or other location. The injuries all range from mild to severe, and include some injuries that are extensive and others that are permanently disabling.
Some of the most common injuries include:
Arthritis
Tendonitis
Bursitis
Ligament tears
Knee sprain
Knee dislocation
Fractures
Knee synovitis
Torn meniscus
Osteonecrosis
Loose bodies in the knee (either avulsion fractures, chips, foreign objects, or other tears or damage to the knee).
If you have suffered any personal injuries, especially knee injuries after a slip and fall accident, learn how we can help you during a FREE consultation by calling (260) 777-7777.
Serious Knee Injuries
There are four main types of knee injuries slip and fall that are usually very serious, often require immediate medical treatment and surgery, and likely will result in some loss of range of motion or permanent disability include the following:
1. Patellar Fracture
When a person fractures a kneecap after a slip and fall, the fracture can be a simple and clean break or the kneecap can shatter in multiple pieces. Both fractures are quite painful and disabling. A person may still be able to walk with a broken patella with the help of a knee brace, a cane, or a walker during the rehabilitation process, which usually takes from three to six months. However, a complicated fracture makes walking impossible and will require surgery and rehabilitation. Some patellar fractures can result in a permanent loss of use and range of motion restriction.
2. Torn Meniscus
The human knee has two half-moon shaped pads made up of cartilage that cushion the joints between the shin bone (the tibia) and the thigh bone (the femur). This cartilage pad is known as the meniscus, and it provides a smooth surface for the proper movement of joints. The knee can sustain injury if one or both cartilage pads (the menisci) are partially or completely torn. A torn meniscus usually happens along with other knee ligament damage, such as a torn MCL or ACL.
3. Torn MCL
The Medial Collateral Ligament (MCL) is located on the knee's inner side, and its job is to protect the knee from collapsing to the left or to the right. When the MCL is hyperextended and tears, a person will often hear a loud popping noise. The person will lose their stability. Walking will be difficult, but not impossible. The MCL is capable of healing on its own in a few weeks if it is a partial or minor stretch, but a torn MCL usually requires surgical intervention.
4. Torn ACL
The Anterior Cruciate (ACL) is one of the four main ligaments in the knee that stabilize it from moving too far in one direction, or too far in the wrong direction. This is referred to as hyperextension. The ACL is located in the knee joint's interior. When the ACL is hyperextended, a person will often hear a loud popping noise. A torn ACL is very painful and prevents a person from walking. This is considered one of the worse types of knee injuries after a slip and fall. The knee will not heal on its own and will require surgery. Recovery time will take longer than other knee injuries will take, usually about six months to one year. Full strength is not guaranteed for an ACL tear.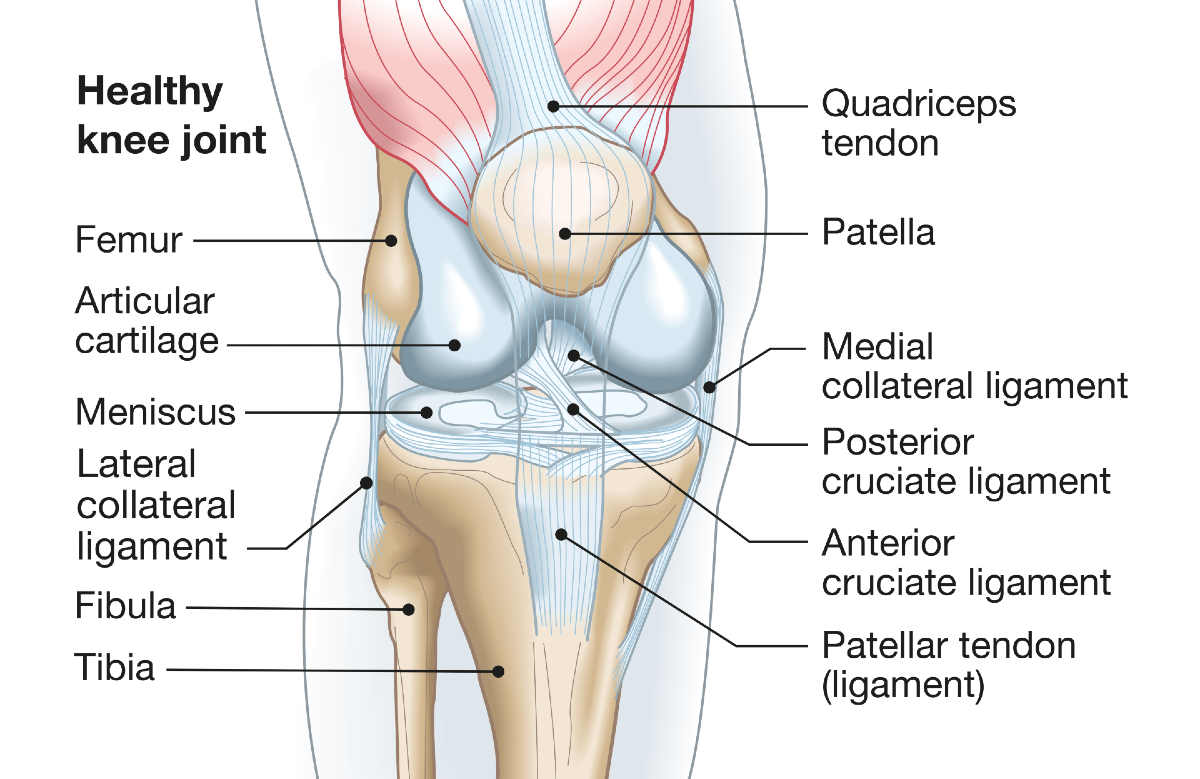 Other Serious Types of Knee Injuries
Some other very serious types of knee injuries include the following:
Torn PCL - not as common as the MCL or ACL, and almost always will require surgery to repair
Torn LCL - not as common as MCL, ACL, or PCL, and can heal on its own if partial or minor, but a full tear must be surgically repaired
Partial knee replacement or total knee replacement - when there is certain damage that requires a portion of the knee to be reconstructed or replaced, this can cause extreme disability for an individual
Quadriceps tears - some knee injuries can involve the quadriceps that are above the knee and usually need surgical intervention to restore full range of motion, and
Other types of very serious knee injuries.
Whether or not surgery is successful, long term complications are possible for someone who has sustained a knee injury after a slip and fall. Leg muscles may have atrophied from less use and need to be strengthened again through physical therapy. Mild to moderate arthritis is common. All of these additional knee injuries may be compensated under Indiana law.
If You Suffered Knee Injuries After a Slip and Fall in Indiana, We Can Help
At Shaw Law, we offer victims of a slip, trip, and fall causing personal injuries a FREE consultation to learn what your rights may be under the law. This is particularly true of knee injuries after a slip and fall in Indiana which can result in serious or permanent injuries or disability.
Learn how our experienced slip and fall lawyers in Indiana can help you by dialing (260) 777-7777 or by send us a message.
DEFENDING THE COMMUNITY SINCE 1989
Read Our 5-Star Reviews
A Lawyer you can count on. - Kim

Not just the lawyers you need, but the lawyers you WANT. - Tristen K

Jeff Shaw was Very Professional - Shelby Kunes

Attorney Shaw got me a fair settlement, much more than I thought we were going to get. - Randy & Kathy M

I Told Him He Now Felt Like a Member of Our Family More Than Our Attorney. - Stephanie B.
$5,000,000 Verdict in Indianapolis, IN

Bicyclist Struck by Indianapolis School Bus (independent contractor) Awarded $5M by Indianapolis Jury (Upheld by Verdict, $4.4M Paid)

$3,040,000 Verdict in Gary, IN

Blackjack Dealer Awarded for Slip and Fall on Ice in Trump Casino Parking Lot

$1,750,000 Verdict in Hammond, IN

Child Dies in Fire, Landlord Failed to Provide Adequate Smoke Detectors

$1,460,000 Verdict Near the Ozarks of Missouri

Sheriff's Deputy who Collides With Improperly Transported Manufactured Home Convoy

$750,000 Settlement for Paralyzed Man Shot at Indy Gas Station

Man Shot and Paralyzed at Gas Station by Unknown Assailant from Unruly Crowd That Gathered After Murder of Person the Night Before at Same Site

$750,000 Settlement in Indianapolis, IN

$750,000 Settlement Slip and Fall Indianapolis Woman Falls on Water in Produce Section of Indianapolis Grocery Store Breaking Leg.

$750,000 $750,000 Verdict in Delphi, IN

$750,000 Verdict for Lady in Golf Cart Struck by Drunk Driver Awarded by Jury in Carroll County

$605,000 $605,000 Verdict in Valparaiso, IN

$605,000 Verdict - Child Awarded for Facial Scarring When Landlord Failed to Cover Exposed Hot Water Pipe in Living Room

$500,000 $500,000 Verdict in Kokomo

$500,000 Verdict for Woman Slip and Fall in Domino's Pizza Restaurant on Water (Reduced to $375,000)

$500,000 $500,000 Settlement in Bluffton, IN

$500,000 Wrongful Death Settlement in Bluffton, Indiana for Woman Killed When She Crossed Center-Line Into Path of Oncoming Speeding Semi-Truck