MCL Tear After a Slip and Fall
If You Suffered Any Type of Knee Injury Like an MCL Tear, Call Our Slip and Fall Lawyers in Indiana
Ligament injuries in the knee can lead to a lifetime of problems for the person injured in a slip and fall in Indiana. Ligaments, such as the MCL, are vital to good knee health. Left untreated, it can lead to devastating consequences to mobility of any person with this injury.
Slip and falls are not a rare occurrence in the state of Indiana. Slip and falls happen every day, leaving victims with injuries. Some people are fortunate enough to not have any significant injuries, while others may have long-term, permanent, or even life-ending injuries. Knee injuries are quite common in slip and fall incidents, with medial collateral ligament (MCL) tears being one of the common types of knee injuries due to a slip and fall incident.
If you were involved in a slip and fall incident and suffered from a MCL injury, you should contact an experienced slip and fall incident in Indiana. This is because injuries from a slip, trip, and fall can be costly and life-changing and our experienced attorneys can help get you the compensation that you deserve for your MCL tear after a slip and fall.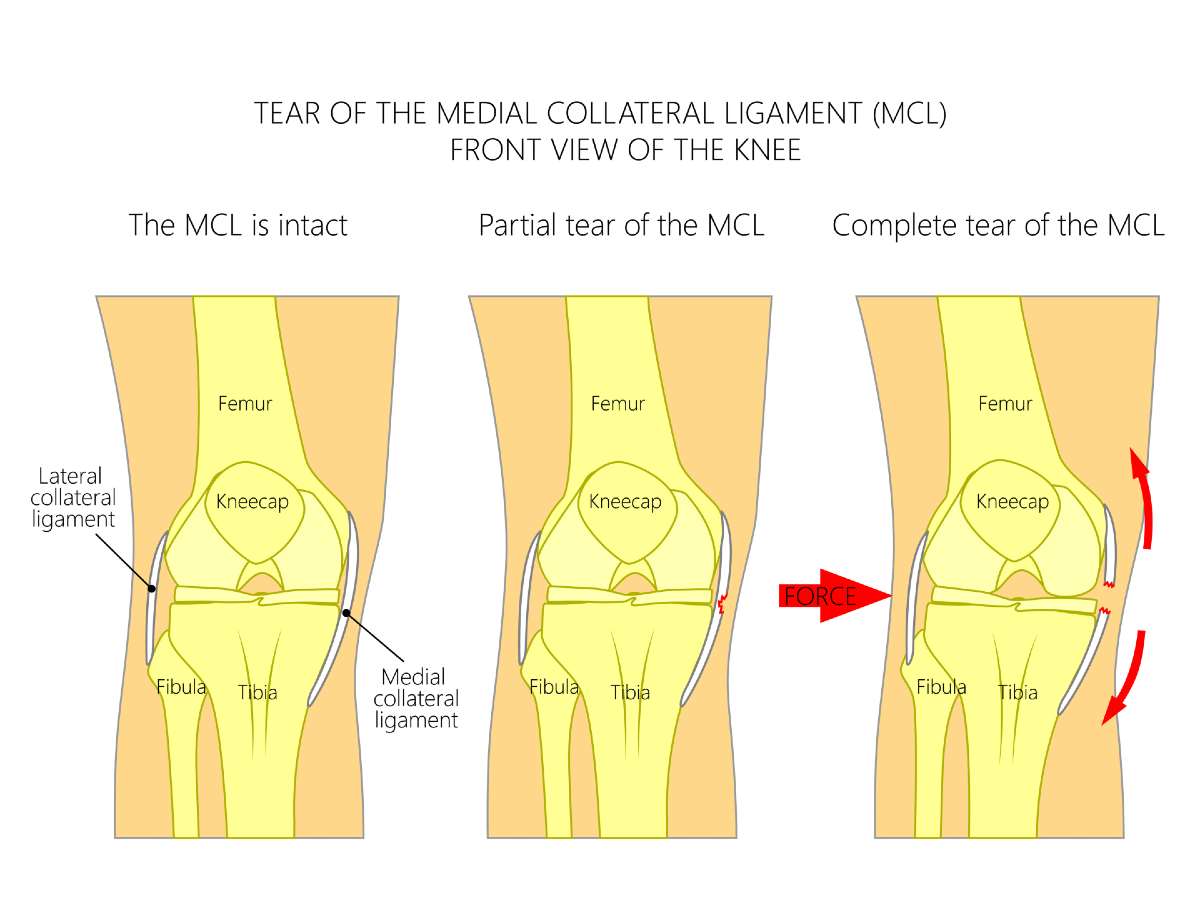 What is a MCL Injury?
According to the Cleveland Clinic, "[a]n MCL tear is damage to the medial collateral ligament." This ligament is located on the inner side of the knee. An MCL tear can be either partial or complete. When a complete tear occurs, the ligament is torn into two pieces.
How Does an MCL Tear After a Slip and Fall Incident Occur?
While MCL tears are most commonly caused by sports incidents, an MCL tear may occur due to a slip a fall incident when a person falls and hits the outer side of their knee. Slip and fall incidents occur when something that is hazardous to the general population is not corrected or treated. Common hazards leading to MCL tear injuries as a result of a slip and fall incident include the following:
Poor lighting
Failure to have a warning sign posted when a floor has been freshly mopped, or if it is wet from people's feet
Gravel
Debris
Spilled products on the floor
Garbage piled on the floor
Broken tiles or flooring, and
Other types of defects on the floor that could cause a slip and fall incident.
Learn more about how Shaw Law can help if you have suffered an MCL tear after a slip and fall, contact us to schedule a FREE consultation.
What are the Signs and Symptoms of an MCL Tear?
There are certain signs and symptoms which may indicate that a person is suffering from an MCL tear. These signs and symptoms include the following:
Stiffness
Swelling
Mild-severe pain
Tenderness located along the inside of the knee
Feeling that you knee is unstable and may give wa , may catch or may lock
Possible popping sound at time of injury.
How is an MCL Tear Diagnosed?
A physician will first evaluate your knee to determine if there is swelling, pain, stiffness, or any other signs of injury. A physician may then order imaging such as an ultrasound, MRI, or x-ray to see if an MCL tear injury is present.
What is the Treatment for an MCL Injury?
The treatment for an MCL injury varies depending on the severity of the injury and how well they respond to non-pharmacologic interventions such as RICE (rest, ice, compression, elevation). Providers often suggest taking non-steroidal anti-inflammatory medications (NSAIDS) to reduce pain and swelling in the knee. A knee brace may be prescribed to allow the knee to prevent moving from side to side to allow for healing and crutches may be prescribed as well. Physical therapy is often recommended. When non-surgical treatment is ineffective, surgical interventions may be necessary.
Are There Any Potential Complications of an MCL Tear?
If a person needs to undergo surgery, there is a risk of infection, bleeding, pain, and prolonged recovery. Additionally, there is a risk of damage to the saphenous nerve after an MCL tear as well as stiffness and instability of the joint.
Did You Suffer an MCL Tear After a Slip and Fall in Indiana? We Can Help You
Here at Shaw Law, we have a proven track record of success handling nearly every type of slip and fall case. Whether it is against a private individual, business, corporation, or government entity, our experienced and compassionate personal injury law firm can help you and your family recover compensation for your injuries.
Knee injuries are always serious types of personal injuries after a premises liability incident such as a slip, trip, and fall.
If you suffered an MCL tear after a slip and fall, call our experienced slip and fall lawyers in Indiana at (260) 777-7777 for a FREE consultation to learn what your rights may be under the law.
DEFENDING THE COMMUNITY SINCE 1989
Read Our 5-Star Reviews
A Lawyer you can count on. - Kim

Not just the lawyers you need, but the lawyers you WANT. - Tristen K

Jeff Shaw was Very Professional - Shelby Kunes

Attorney Shaw got me a fair settlement, much more than I thought we were going to get. - Randy & Kathy M

I Told Him He Now Felt Like a Member of Our Family More Than Our Attorney. - Stephanie B.
$5,000,000 Verdict in Indianapolis, IN

Bicyclist Struck by Indianapolis School Bus (independent contractor) Awarded $5M by Indianapolis Jury (Upheld by Verdict, $4.4M Paid)

$3,040,000 Verdict in Gary, IN

Blackjack Dealer Awarded for Slip and Fall on Ice in Trump Casino Parking Lot

$1,750,000 Verdict in Hammond, IN

Child Dies in Fire, Landlord Failed to Provide Adequate Smoke Detectors

$1,460,000 Verdict Near the Ozarks of Missouri

Sheriff's Deputy who Collides With Improperly Transported Manufactured Home Convoy

$750,000 Settlement for Paralyzed Man Shot at Indy Gas Station

Man Shot and Paralyzed at Gas Station by Unknown Assailant from Unruly Crowd That Gathered After Murder of Person the Night Before at Same Site

$750,000 Settlement in Indianapolis, IN

$750,000 Settlement Slip and Fall Indianapolis Woman Falls on Water in Produce Section of Indianapolis Grocery Store Breaking Leg.

$750,000 $750,000 Verdict in Delphi, IN

$750,000 Verdict for Lady in Golf Cart Struck by Drunk Driver Awarded by Jury in Carroll County

$605,000 $605,000 Verdict in Valparaiso, IN

$605,000 Verdict - Child Awarded for Facial Scarring When Landlord Failed to Cover Exposed Hot Water Pipe in Living Room

$500,000 $500,000 Verdict in Kokomo

$500,000 Verdict for Woman Slip and Fall in Domino's Pizza Restaurant on Water (Reduced to $375,000)

$500,000 $500,000 Settlement in Bluffton, IN

$500,000 Wrongful Death Settlement in Bluffton, Indiana for Woman Killed When She Crossed Center-Line Into Path of Oncoming Speeding Semi-Truck