Falls on Mats that Are Bunched Up, Torn, or Slippery: Mat Hazards that Can Cause Falls & Serious Injuries
Mats are supposed to help prevent slip-and-falls. They are intended to soak up water and dirt to prevent contaminants from entering a store, restaurant, or building hallway. Yet, ironically, many mats present a tripping risk due to property owners or business owners not properly maintaining or inspecting them at regular intervals. Because they are technically obstructions to the normal flooring, mats can present an extreme tripping hazard to pedestrians when "bunched up" or if they lack adherence to the floor (or are not built-in at the same level).
Additionally, many mats can become "hydroplanes" to an unsuspecting pedestrian or customer who cannot see whether the rubber backing has been worn away or a layer of dirt, silt, or sand exists under the mat. In these cases, when a person steps on the mat, it's likely to slide away, causing the person to fall onto the hard tile. Mats can become soaked with water or snow in a short amount of time and thus create a repository for more liquid to be carried inside a building – creating more risk rather than reducing the risk of a fall. Additionally, mats that do not adhere to the ground with tape or are not built-in to be level with the ground can present an increased risk of falls if they become bunched up by multiple usages.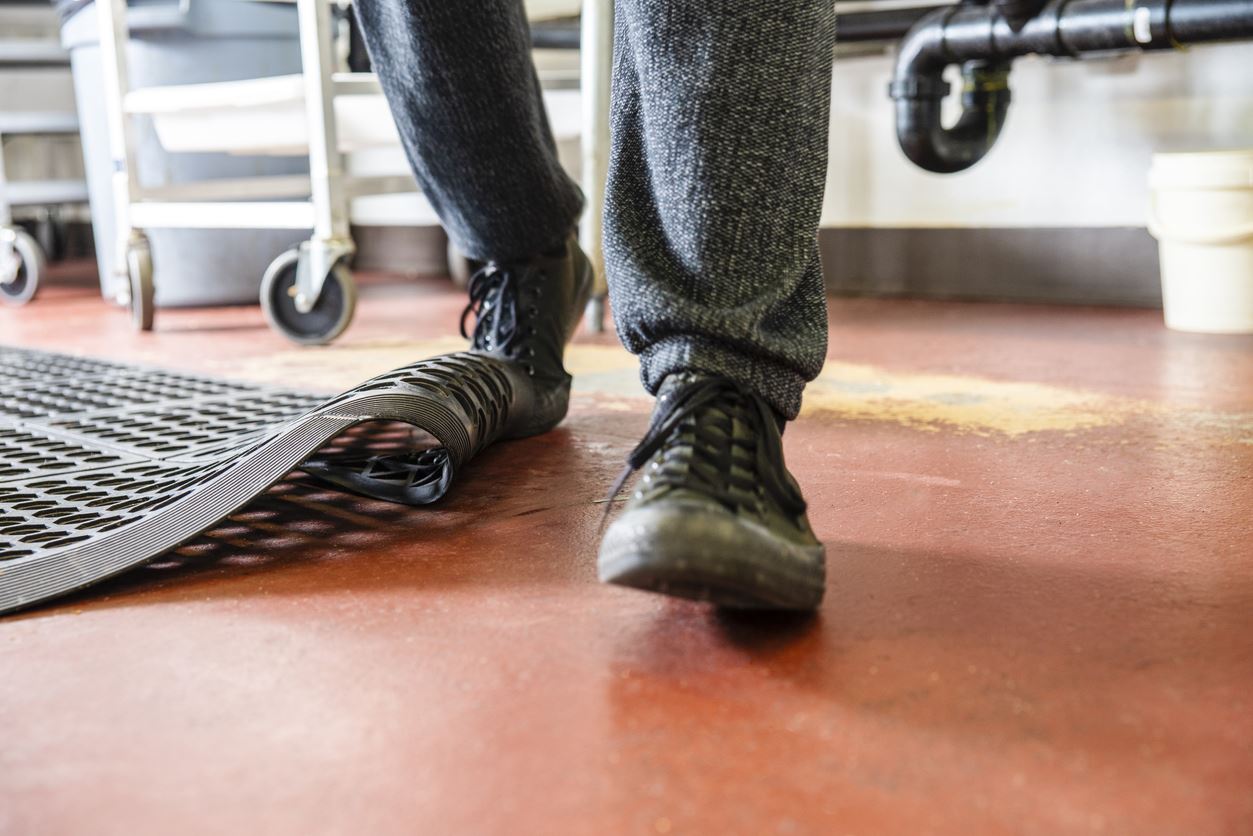 Duties & Legal Obligations of Business Owners & Property Owners in Indiana
If a business owner does not regularly or periodically inspect a mat, it can become bunched up and trip the unsuspecting pedestrian. If a business owner does not regularly clean or replace a mat, the rubber backing can become as slick as the rain, liquid, or snow it was designed to prevent. Many homes and businesses have mats on the ground and, while they have a purpose, they can also be a danger if they become bunched up and someone trips and falls because of it. This unfortunately happens all too often, even though property owners and business owners have a duty to ensure that there are no fall hazards on the premises that pose a risk of injury to guests or patrons.
Why Bunched-Up Mats Are Dangerous
Bunched-up mats are dangerous for a number of reasons. While they serve a purpose for things such as drying feet after a rainstorm or snowstorm, in the produce aisle of a grocery store to limit moisture, and for decorative purposes, they can also be a fall hazard if they are not properly maintained and installed. Bunched-up mats pose a tripping hazard if they are improperly placed or are not replaced after excessive wear and tear. If any part of the mat is not flat against the floor, it poses a tripping hazard. People tripping on mats often fall face forward and suffer serious injury.
Common Injuries After Falls on Bunched Mats
Injuries due to falling on a bunched-up mat can be serious and disabling. While some victims are fortunate enough to suffer only minor injuries, other people may be permanently disabled or face prolonged hospitalization for their injuries.
The most common injuries seen after a fall on a bunched-up mat include the following:
Victims who are injured by falls on a bunched-up mat in Indiana should call our experienced trip-and-fall lawyers at Shaw Law for a FREE consultation to learn more about what your rights may be under the law.
Our Lawyers Can Help You Seek Compensation for Mat-Related Injuries in Indiana
A fall over a bunched-up mat can cause catastrophic injuries, leaving victims potentially disabled and with costly medical bills. Some victims are unable to work for a prolonged period or may never again be able to perform the duties of their job, leaving them with significant economic losses.
If you or a loved one suffered an injury due to a bunched-up mat, you should call our trip-and-fall lawyers in Indiana for a review of your case to determine if you are eligible for compensation for your injuries. Here at Shaw Law, we know that victims who are injured in falls on bunched mats bunched may be entitled to compensation in a personal injury lawsuit. This includes compensation for pain and suffering, medical bills, lost wages, and other damages related to their case.
If you or a loved one were seriously injured in a fall that was caused by a bunched-up map, call our trip-and-fall lawyers in Indiana for a FREE consultation to learn more about your rights: (260) 777-7777. You can also reach us through our online contact form here.
"A Lawyer you can count on."

- Kim