Orbital Fracture and Facial Fracture After a Slip and Fall
Facial Injuries in a Fall Need Our Help: Call Us For an Orbital Fracture After Slip and Fall Incidents in Indiana
Facial injuries can be disfiguring, painful and devastating after a slip and fall in Indiana. Often, they can be the most emotionally painful of all the injuries if surgery results in a scar the world can see.
Slip and fall incidents are quite common. Not only are they common, but they often leave victims with injuries. There are many different types of injuries that can occur when a person is involved in a slip and fall incident, with orbital fractures being one serious type of injury.
Most victims suffering an orbital blowout fracture may need invasive surgery and may end up with visual impairments, deformity, or other serious complications. Medical costs of caring for an orbital fracture can also be quite costly and recovery from an orbital fracture after a slip and fall incident can be lengthy, leading to a loss of income and high medical bills. If you or a loved one suffered any type of facial injury such as a broken bone or orbital fracture, you may be entitled to compensation and our slip and fall lawyers can help you.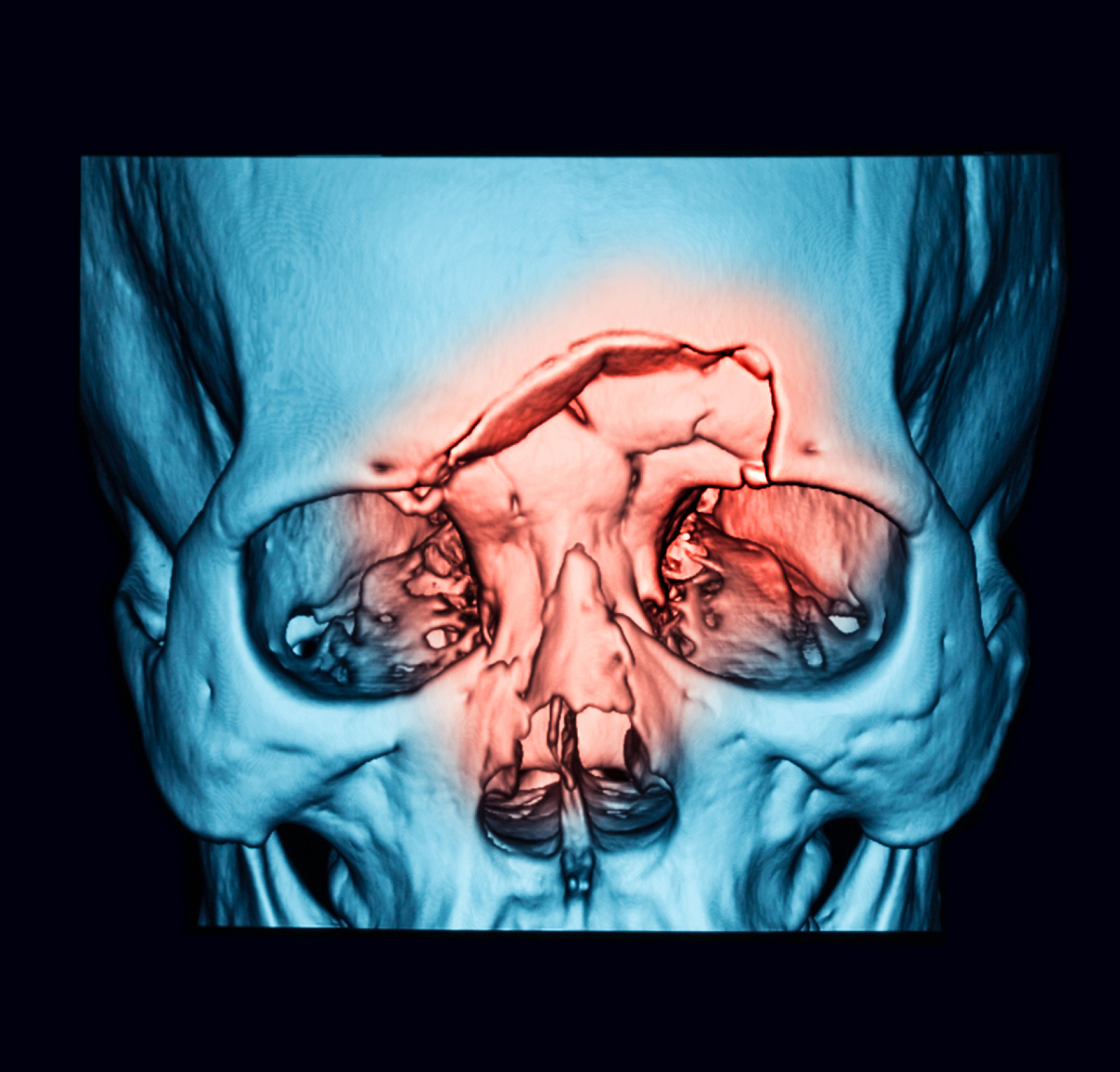 What is the Orbit of the Eye?
The orbit of the eye is the socket in the skull where the eye sits. The role of the orbit is to help protect the eye. However, the orbit also can be fractured in a serious incident such as a slip and fall incident, leading to serious injury. This is particularly true when the floor of the orbit is scattered, damaged, or "blown" due to the impact of a fall.
What is an Orbital Fracture?
An orbital fracture occurs when there is a break in the orbit which surrounds the eye. There are a few different types of orbital fractures. The types of orbital fractures include the following:
Blowout fracture - This type of orbital fracture causes a break of the inner wall of the eye socket. This type of orbital fracture is serious as it can affect the eye muscle and impair vision.
Orbital rim fracture - This type of injury involves the bone on the outer edge of the eye socket. The fracture can lead to damage of the brain or the optic nerve
Floor fracture - Floor fractures leads to pushing the orbital floor downward, potentially causing damage of the optic nerve or muscle entrapment leading to vision impairment or loss.
If you or a loved one were seriously injured, you should contact an experienced Indiana slip and fall lawyer in Indiana to discuss what compensation you may be eligible for as a result of your injuries. We offer FREE consultations and can help you and your family today.
What are the Symptoms of an Orbital Fracture?
There are certain symptoms that can indicate a person is suffering from an orbital fracture from a slip and fall incident. Sometimes the injury is obvious, particularly a blowout fracture. But sometimes it is not, other than extreme pain. These symptoms include the following:
Double vision
Pain
Swelling
Facial numbness due to nerve damage
Blood shot eye
Sunken eyeball
Decreased ability to move the eye
Bruising around the eye
Facial asymmetry
Extensive trauma around the eye, and
Other serious injuries, deformities, and damage to the eye and face.
How are Orbital Fractures Treated?
Treatment of orbital fractures depends on the type and severity. Minor orbital fractures may be treated with decongestants, ice, and antibiotics. More severe orbital fractures may require specialized surgery to restore the structure of the eye socket, repair deformities, free trapped eye muscles, and to remove fragments of bone.
Complications of Orbital Fractures
There are certain complications that can occur as a result of an orbital fracture. Complications of orbital fractures due to a slip and fall incident include the following:
Loss of vision
Blurred vision
Damage to the optic nerve
Infection
Eyelid or soft tissue abnormalities
Deformity
Hemorrhage
Optic neuropathy, and
Other injuries that are often permanent, disabling, and debilitating.
Were You Diagnosed With an Orbital Fracture After a Slip and Fall in Indiana? Call Us Today
Here at Shaw Law, we know that most slip and fall incidents are preventable, meaning that victims of orbital fractures due to a slip and fall incident could have been unharmed had the hazard been taken care of prior to the slip and fall incident. We also know how important it is for victims and their families to recover compensation for their personal injuries after a slip and fall or trip and fall incident like an orbital blowout.
Orbital fractures are very serious injuries that could result in significant and catastrophic injury, including blindness. Any orbital fracture after a slip and fall must be handled by a competent and skilled personal injury law firm.
Call our experienced slip and fall lawyers in Indiana at (260) 777-7777 for a FREE consultation to learn what your rights may be under the law.
DEFENDING THE COMMUNITY SINCE 1989
Read Our 5-Star Reviews
A Lawyer you can count on. - Kim

Not just the lawyers you need, but the lawyers you WANT. - Tristen K

Jeff Shaw was Very Professional - Shelby Kunes

Attorney Shaw got me a fair settlement, much more than I thought we were going to get. - Randy & Kathy M

I Told Him He Now Felt Like a Member of Our Family More Than Our Attorney. - Stephanie B.
$5,000,000 Verdict in Indianapolis, IN

Bicyclist Struck by Indianapolis School Bus (independent contractor) Awarded $5M by Indianapolis Jury (Upheld by Verdict, $4.4M Paid)

$3,040,000 Verdict in Gary, IN

Blackjack Dealer Awarded for Slip and Fall on Ice in Trump Casino Parking Lot

$1,750,000 Verdict in Hammond, IN

Child Dies in Fire, Landlord Failed to Provide Adequate Smoke Detectors

$1,460,000 Verdict Near the Ozarks of Missouri

Sheriff's Deputy who Collides With Improperly Transported Manufactured Home Convoy

$750,000 Settlement for Paralyzed Man Shot at Indy Gas Station

Man Shot and Paralyzed at Gas Station by Unknown Assailant from Unruly Crowd That Gathered After Murder of Person the Night Before at Same Site

$750,000 Settlement in Indianapolis, IN

$750,000 Settlement Slip and Fall Indianapolis Woman Falls on Water in Produce Section of Indianapolis Grocery Store Breaking Leg.

$750,000 $750,000 Verdict in Delphi, IN

$750,000 Verdict for Lady in Golf Cart Struck by Drunk Driver Awarded by Jury in Carroll County

$605,000 $605,000 Verdict in Valparaiso, IN

$605,000 Verdict - Child Awarded for Facial Scarring When Landlord Failed to Cover Exposed Hot Water Pipe in Living Room

$500,000 $500,000 Verdict in Kokomo

$500,000 Verdict for Woman Slip and Fall in Domino's Pizza Restaurant on Water (Reduced to $375,000)

$500,000 $500,000 Settlement in Bluffton, IN

$500,000 Wrongful Death Settlement in Bluffton, Indiana for Woman Killed When She Crossed Center-Line Into Path of Oncoming Speeding Semi-Truck