Falls on Slippery Tile Floors in Indiana: Handling Claims Stemming from Tracked in Snow & Rain
Indiana has bad weather. We get a lot of snow (at least we did in the "old days" before general warming trends). We get a lot of rain. Indiana business owners must account for this bad weather and make sure customers do not encounter slippery, wet floors that can lead to serious slip-and-falls on hard tile floors.
Insurance companies will try to convince juries and injured Hoosiers who fell from wet floors due to tracked in ice and snow cannot seek compensation. What a load of bunk! It's true that wet floors are bound to happen from time to time in convenience stores and other places of business. While floors becoming wet cannot always be prevented, convenience stores have an obligation to clean up spills and wetness in a timely manner, as well as provide proper warning to patrons with appropriate caution signs.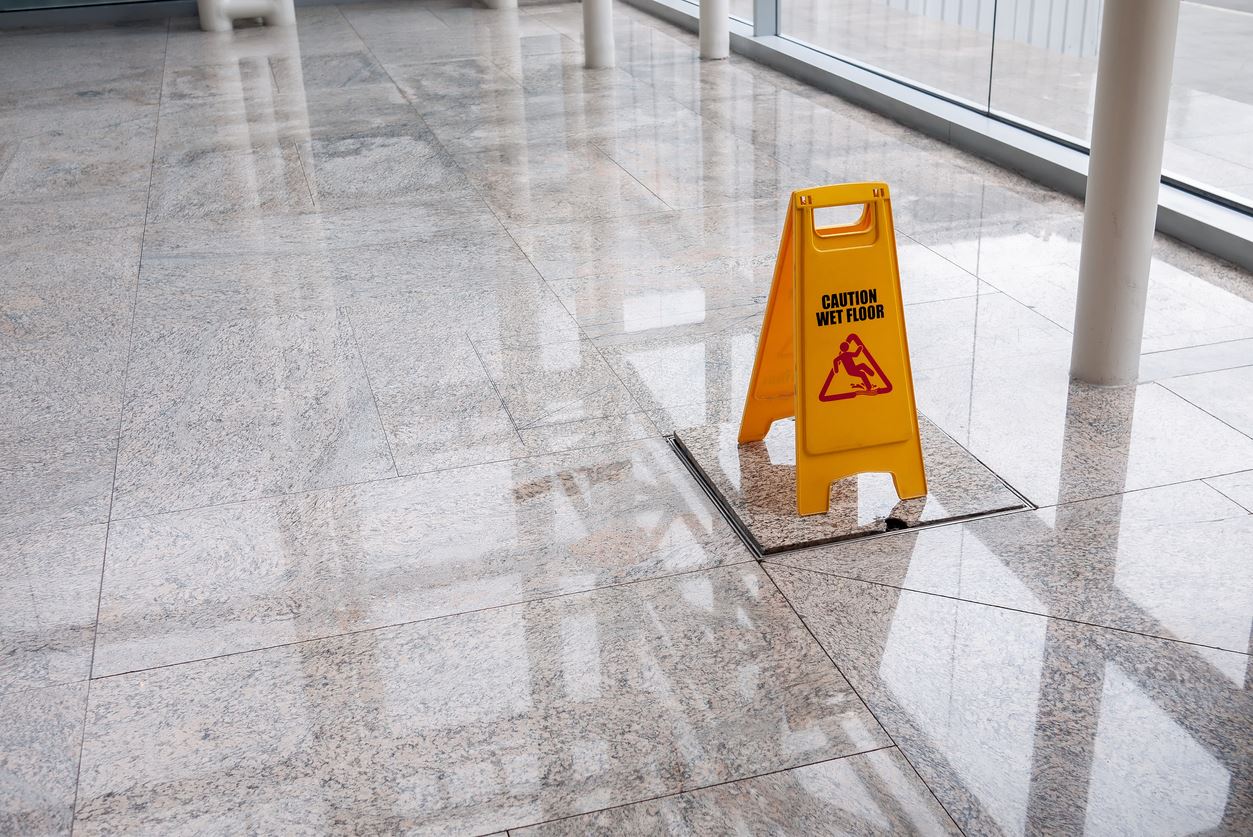 If you slipped, fell, and were injured due to a negligent business owner, Shaw Law can help you seek compensation. Call our text our slip-and-fall attorneys at(260) 777-7777 to schedule a free consultation.
Additional Hazards from Mats
Mats are supposed to help prevent slip-and-falls. They are intended to soak up water and dirt to prevent contaminants from entering a store, restaurant, or hallway. Yet, ironically, many mats present a tripping risk for customers due to property owners or business owners not properly maintaining or inspecting them on a regular interval. And mats, because they are obstructions to the normal flooring, can present an extreme tripping hazard to pedestrians if they are allowed to be "bunched up" or lack adherence to the floor (or built-in at the same level).
Additionally, many mats can become "hydroplanes" for the unsuspecting pedestrian or customer who cannot see whether the rubber backing has been worn away or whether a layer of dirt, silt, or sand exists under the mat. In these cases, when a person steps on it, it slides away and down they go onto the hard tile. Mats can become soaked with water or snow in a short amount of time and thus create a repository for more liquid to be carried inside a building – creating more risk rather than reducing the risk of a fall.
The "Danger" of Warning Signs
The warning sign is a particularly problematic issue for most persons or customers who have fallen at a convenience store. Savvy convenience store owners or managers have "learned" through clever lawyers that it is "safer" to display yellow warning signs, menu-board warning signs, orange cones, or "Beware of Wet Floor" signage 24/7 – whether a wet floor actually exists or not. The thought behind this tactic is to always have a defense of adequate warning anytime a customer falls. Ironically, the ever-present and ubiquitous warning sign has made things more dangerous for the customer rather than safer – as we have all become accustomed to seeing a "Beware of Wet Floor" sign or orange cone or warning sign whenever we enter a convenience store now, the "warning" has worn off and means nothing to the average customer anymore. Tracked snow and rain can be inevitable in Indiana.
An Owner's Obligations to Provide Safe Conditions
Business and property owners still have an obligation to keep their stores, offices, businesses, and residences in a reasonably safe condition. This duty includes:
Keeping the property free from defects that could cause slip-and-falls, such as falls because of tracked in snow and rain.
Taking care of these hazardous conditions by using mats, carpets, warning signs, and regularly mopping up the entrances and exits on rainy or snowy days.
While this may require a little extra effort, it is necessary to protect people who are being invited into a store. Vacuums help; mops can be lifesavers. It isn't impossible to keep floors safe and dry. And Indiana customers, pedestrians, and visitors to businesses are entitled to the same level of safety as those persons in dry climates like Arizona or the Southwest United States.
How Shaw Law Can Help Injured Victims
Victims who suffer falls on tracked in snow and rain in Indiana should call our slip and fall lawyers for a FREE consultation to learn how we can help you and your family recover compensation. Here at Shaw Law, we have helped families throughout Indiana recover compensation for slip and fall injuries, including for falls on tracked in snow and rain. This is a very serious and risky issue that almost every person walking into or out of a store will encounter if a store owner does not properly maintain the premises.
Contact Shaw Law for a FREE consultation today by calling (260) 777-7777 or by sending us a message.
Why Tracked in Snow & Rain Is Dangerous
Tracked in snow and rain is dangerous because it poses a fall risk for individuals walking on it. When floors become wet, people are at risk for slipping and falling, leading to serious injuries.
Snow poses a fall risk as it melts and then becomes slippery and dangerous, especially at entrances and exits.
Guarding Against Snow and Rain Falls
Many times, the obligations of a landowner or tenant to guard against snow and rain falls is very minimal. Sometimes even just a mat or carpet by the entrance can help prevent falls. Other times more effort is needed, including using warning signs and wiping the floor to help prevent others from falling on tracked in snow and ice. Businesses that fail to do so could be negligent and allow victims who are injured to recover compensation for their personal injuries and harm.
Common Injuries from Falls Due to Tracked in Snow and Rain
Injuries from falls due to tracked in snow and rain can range from mild to severe. Severe injuries can leave victims disabled or injured and injuries may necessitate a prolonged hospital stay.
Injuries most commonly caused by falls on tracked in snow and rain include the following:
Falls on Tracked in Snow and Rain Can Result in Liability: Call Our Slip and Fall Lawyers in Indiana for Help
Victims who are injured in falls on tracked in snow or rain in Indiana should call our experienced trip-and-fall lawyers at Shaw Law for a FREE consultation to learn more about what your rights may be under the law.
Dial (260) 777-7777 or by send us a message through our "Contact Us" box available here.
"A Lawyer you can count on."

- Kim