Trip and Falls Caused Rotted Wood Porches or Decks and be Prevented -- You Need an Experienced Attorney to Help You Not Trip Up
Stairs are an essential part of life.
Stairs exist where we live (apartments, hotels, rental homes) and where we shop or eat (restaurants especially, but also some businesses).
Many stairs, decks and porches are constructed out of wood. Wood is cheap and easy to find.
Many stairways, stairwells, and decks have handrails made of wood.
Furthermore, decks and porches are a great place for many people in Indiana to spend time when the weather warms up.
Many people use these outdoor spaces for entertainment and relaxation. While porches and decks are a great place for relaxation and entertainment, they also can pose significant risks for injury if not properly maintained.
Many apartment units and rental homes – whether leased through a landlord, property manager or VRBO – have decks to attract tenants and guests.
Decks are easy to build but need vigilant maintenance and inspections or they can become dangerous very quickly for the unsuspecting tenant or guest.
Determining who is responsible is tricky if not handled correctly by an inexperienced lawyer – is it the tenant who rents the property? Is it the landlord who leases out the property? Is it the property manager who oversees the property for the landowner?
Wood porches and decks are often a source of enjoyment and a place to get together and relax with friends and loved ones. Unfortunately, there are times in which wood porches and decks can pose a danger to those using a wood deck or porch.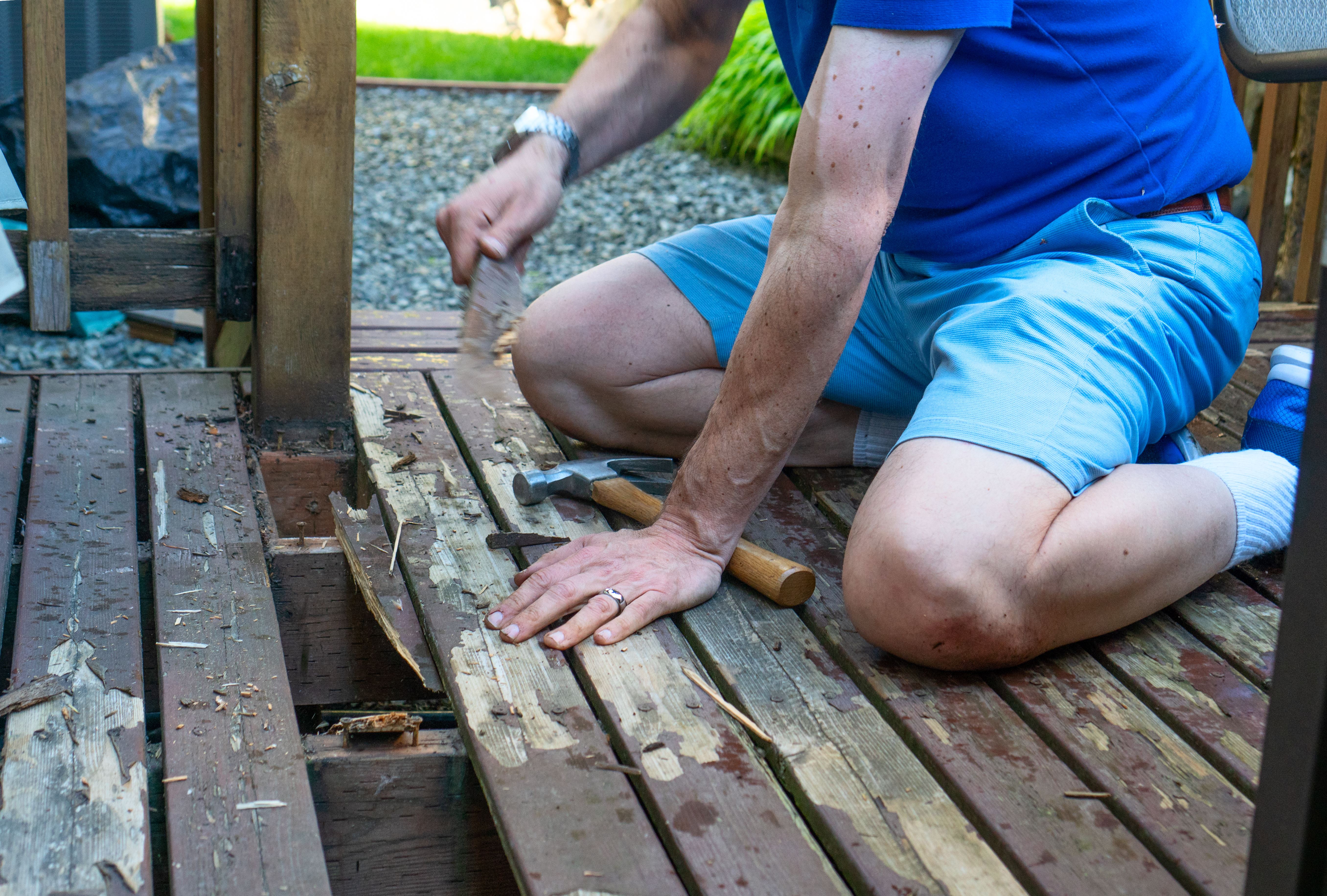 One common and significant way in which a wood porch or deck can pose a serious risk for injury is when there is rotting of the wooden porch or deck. Rotting of the wood can place people at risk for falls and serious injuries if the porch or deck collapses. Falls on rotted wood porches or decks that result in serious personal injuries should be handled by our experienced slip-and-fall lawyers in Indiana.
Here at Shaw Law, our experienced team of personal injury lawyers understand how dangerous rotted wood porches and decks can be, and also how preventable these injuries can be if wooden decks and porches are properly maintained.
Call today for a FREE consultation to learn what your rights to compensation may be if you were injured as a result of a fall or other accident on a deck or porch that was caused by rotted wood. Whether the entire deck collapsed, or you stepped through the flooring, our experienced slip-and-fall lawyers in Indiana can help you and your family.
Why Rotted Wood Stairs, Porches or Decks are Dangerous
Rotted wood porches or decks are dangerous because they could cause deck collapses. Rotted wood sections could also result in a person having their foot caught, fall through, or become injured in an area of rotted wood. Rotted wood is often hidden and hard to see, making it the duty of the landowner or maintained to inspect the deck properly and regularly. Homeowners who fail to do so could be liable for a victim's injuries in Indiana.
Porch or Deck Collapses and Stair Collapses from Rotted Wood
While wood porches and decks may be an enjoyable place to relax and socialize, they also can be a place for great danger if they are improperly maintained. One serious risk of a rotted wood deck or porch is a porch or deck collapse.
Porch and deck collapses are incredibly dangerous and often lead to serious injury or even death due to the collision or impact of the fall, impaling, or from having debris fall onto them in the collapse. Porch and deck collapses can be due to improper maintenance, heavy snow, improperly constructed decks or porches, as well as many other causes of porch and deck collapses.
Stairs also need to be visually inspected for wood damages, rotted wood, and insect control often.
Indiana Building Codes and ASTM or ANSI safety guidelines require and suggest decks, porches and especially stairs used at businesses to be safe.
While a violation of an Indiana building code might not necessarily be enough to win your case, it can be used as evidence of negligence and probably ensures your case will get to a jury and not be dismissed for lack of evidence before a trial.
Common Injuries Our Slip-and-fall Lawyers Could Recover for You
Victims who sustain injuries on a porch or deck due to rotted wood are often eligible for compensation. There are many different types of injuries that victims can sustain, with the following being the most common injuries:
Scarring or disfigurement
Crush injuries
Amputation or loss of limb
Death, and
Victims Injured in Falls on Rotted Wood Porches or Decks Should Call Our Slip-and-fall Lawyers in Indiana
Attorney Jeff "JJ" Shaw has over 33 years of experience. Our experienced team of slip-and-fall lawyers in Indiana understand how catastrophic injuries from a slip-and-fall on a rotted wood porch or deck can be, and how preventable the accidents can also be. Our dedicated and personable team of lawyers and paralegals are here to get you back on your feet, while working to recover you the compensation that you are entitled to.
Victims who were injured in falls on rotted wood porches or decks should call our experienced slip-and-fall lawyers in Indiana at Shaw Law to schedule a FREE consultation by calling (260) 777-7777 or by sending us a message.
"A Lawyer you can count on."

- Kim