Experienced Slip-and-Fall Lawyers in Indiana: Helping Ensure You Don't Slip Up in Your Case
The advent of tile flooring and stone flooring for common buildings brought on new problems. No longer was the laborious and time-consuming art of laying tile, with its precise measurements and keen sense of style and layout, for only the most expensive buildings of the day. Royal palaces and castles had exquisite tile work in the mid-1500s forward, but the common person often went their entire life without seeing a single tile. However, by the mid-1900s, almost any brick-and-mortar store could afford tile work for restrooms, bathrooms, and lobby hallways. Tile fell in price and the tiny tiles were replaced by bigger square inches – which were cheaper to make and easier to install, with much less grout work. Tile flooring was for everybody and no longer just a luxury for the rich or the fanciest of store owners.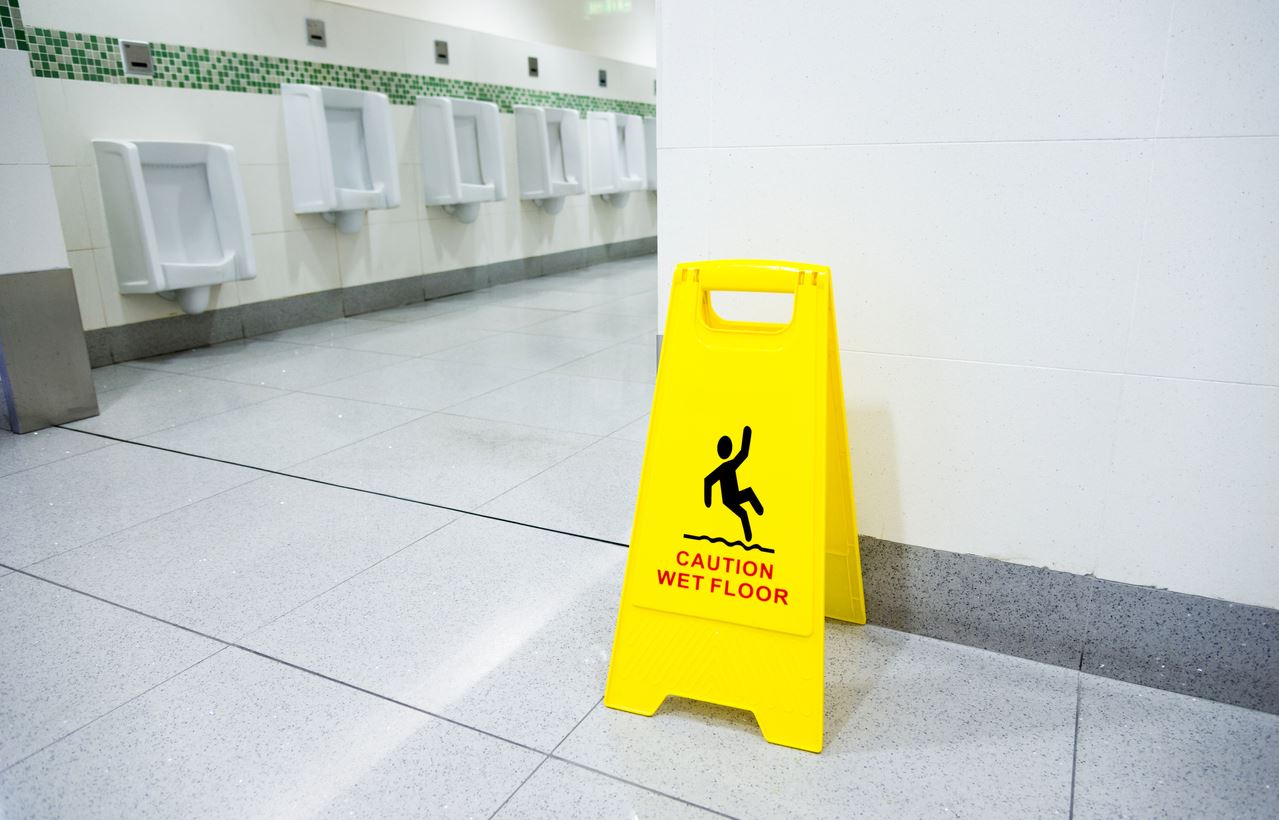 Hazards Associated with Tile Flooring
Among the many benefits of tile flooring? Durability. Durability. Durability. It's also easy to maintain and clean; any old mop can make it sparkle after regular foot traffic or a big event. Tile floors can also take the wear-and-tear from large numbers of customers and be quickly returned to their original beauty and glory.
However, there is no such thing as a free lunch – tile flooring causes another problem – it is often very slick after cleaning, making it hazardous to those who don't know to proceed with caution. The type of cleaning agent – including soaps and wax – can alter the "slipperiness" or "slickness" of the tile in hazardous ways.
Soap and wax are commonly used to clean, shine, and protect floors. While they are quite effective at their intended purposes, when soap or wax is misused or not properly handled, it could result in serious or catastrophic slip-and-falls. This is particularly true when putting the soap and wax down, and in the process of cleaning or shining.
Property owners, managers, and employees have a duty to warn others if the floor is wet or slippery. Typically, a caution sign is used. If there is no sign and a person falls, the property owner, manager, or other parties may be liable for the victim's fall. Additionally, if excessive soap or wax is used and it causes a temporary or persistently slippery condition that is not corrected and a person falls, the property owner, manager, or other parties may be liable for all falls on soap or excessive wax on flooring. When this happens, please call our experienced slip-and-fall lawyers in Indiana for help.
Here at Shaw Law, we know that soapy floors in restrooms or excessive wax on the floor can lead to serious injuries or even wrongful death. Whether or not a caution sign was present at the time of your fall, you should still call our experienced slip-and-fall to review your case for FREE to determine if you may have a right to compensation for your injuries.
Call Shaw Law to learn how "We Get You Back on Your Feet." Dial (260) 777-7777 to get started.
Why Soap or Excessive Wax on Flooring Causes Slip-and-Falls
While the use of soap and wax is necessary to clean floors, when used improperly they can lead to serious falls. The same risks occur when the wrong type of soap or wax is used for the specific tile or stone floor being cleaned. Many building owners and business owners do not check the warnings on soaps, cleaning agents, or wax to see which can be used safely with which type of flooring. Additionally, a caution sign should always be used when mopping or waxing floors to warn others of the potential risk of falls.
Falling on a floor that has excessive soap or wax can result in catastrophic injuries. This can occur for many reasons, including the type of cleaning agents used on a floor, when it was dried, if it was still dirty, and other factors. Measuring the "co-efficient of friction" (the slickness of a particular flooring) can be done with the help of Shaw Law. This measurement – if not within acceptable safety guidelines – can help you prove "fault" or "negligence" on the part of the landowner or business owner responsible for the slippery flooring.
The first known study to test the slipperiness of floors was conducted by the United States Department of Commerce, National Bureau of Standards in its 1948 "Measurement of the Slipperiness of Walkway Surfaces." This study was the first to use a pendulum-impact type device to measure slipperiness, which is now the gold standard in today's industry. This ingenious study determined that most people who slip and fall do so when their front heel hits the ground – like a pendulum – so the device was used. The findings have become standardized questions in the investigations of today's slip and fall cases– rubber heels are better than smooth leather soles, many floors are more slippery wet than dry, and rough particles added to the walkway surface help reduce slipperiness when wet.
Common Causes of Bathroom Slip-and-Falls
The most common cause of slip-and-falls in restaurant or business restrooms comes after the cleaning of clogged toilets, urinals, and other drains. When one of these appliances is clogged, it can lead to water back flowing on the floor, causing a serious slip-and-fall hazard. Oftentimes, the victim is unable to avoid the hazard because they may unsuspectingly step into it the minute they enter a restroom or stall in the bathroom. The victim may try to leave but instead fall. When the staff member, employee, or worker attempts to clean up a clogged toilet or urinal with the same oily or greasy mop used to clean the kitchen – it's a disaster waiting to happen.
Restrooms should be regularly attended to and inspected. Written documentation of the inspections and cleanings needs to be posted for all employees to see. And, the same mop used to clean the kitchen should NEVER be used in the restroom where the public is expected to be. All clogs in toilets and urinals need to be cleaned promptly and if they cannot be fixed immediately, the restroom needs to be cordoned off or rendered unusable until a plumber can tend to the matter. While it might be inconvenient if a restroom is not in operation or usable for the public, it is certainly a better outcome than the serious and potentially devastating injuries caused by slick, oily, and greasy restroom tile floors.
Untreated clogs lead to backflow of water, which poses a significant risk to others. Falls on wet flooring are a common hazard that could be avoided if property owners and maintainers regularly inspected and monitored their bathrooms.
Who Is Responsible When Someone Falls on a Slippery or Overly Waxed Floor?
Determining who is responsible for your fall due to a slippery floor in a restroom, restaurant, casino, bank, or hospital can be difficult. Is it the business? Is it the landowner? Is it the employee? Is it all of them under Indiana law? Here at Shaw Law, we can examine the documents and perform the necessary investigation to answer this question for you.
There are many different parties who may be responsible for a fall on a floor with excessive soap or wax. If this occurs in a residential home and the victim was not warned about the slippery condition, the homeowner may be responsible. If a fall on a floor with excessive soap or wax occurs in a place of business or other types of property, the business or property owner may be responsible as well as the manager or other employees who work at the place of business.
Common Injuries from Slip-and-Falls on Soap or Wax
Slip-and-falls on excessive soap or wax can lead to serious or even fatal injuries. Some of the most common injuries we see our clients sustain include the following:
Abrasions
Knee or hip injuries
Soft tissue injuries
Rotator cuff injuries, including tears
Dislocations or separations
Slipped discs or herniations
Concussions
Other injuries caused by a fall on a floor with excessive wax or soap
Call Our Slip-and-Fall Lawyers in Indiana for Injuries Caused by Falls on Soap or Excessive Wax on Flooring
If you or a loved one suffered serious injuries or death caused by a fall on soap or excessive wax on flooring, call our slip-and-fall lawyers in Indiana today. Our compassionate lawyers understand how catastrophic injuries from a fall on a floor with excessive wax or soap can be, and we're well aware of the financial, physical, and emotional losses that victims often suffer as a result of the injuries sustained.
Our skilled professionals are here to get you back on your feet, and we will work to protect your rights while fighting for compensation for your injuries.
Schedule a FREE consultation by dialing (260) 777-7777 or by sending us a message through our "Contact Us" box available here.
"A Lawyer you can count on."

- Kim