Attorneys for Falls on Stairs in Indiana: Falls Caused by Stairs with No Handrails, Broken Handrails, or No Contrast Paint
Did you know more people fall down single-riser stairs (short flight stairs) than multi-step stairways? It doesn't seem to make sense at first. Why would more people fall down a short or single stair than a long stairway where there are more chances of falling? It's because of the human brain. For most people, single-riser stairs are often not seen or recognized when looked at by the human eye, which has a very difficult time identifying the difference between two levels of ground versus five, six, or seven steps. Especially when the two levels of ground are the same color, the human eye can "blend" the two surfaces together, making a person think the step does not exist.
The law is starting to recognize the extreme danger involved in a single-step stairway and now many building codes require "clues" or "markers" to help the human eye discern that there is a step between two levels of ground that appear to "blend" into each other when someone takes a quick look. This concept is called making single-riser steps "conspicuous," or observable, with safety features such as yellow paint on one of the levels or installing handrails on the stairway. Handrails help the human eye recognize that the levels of ground are not the same and that a step is present where a person is walking.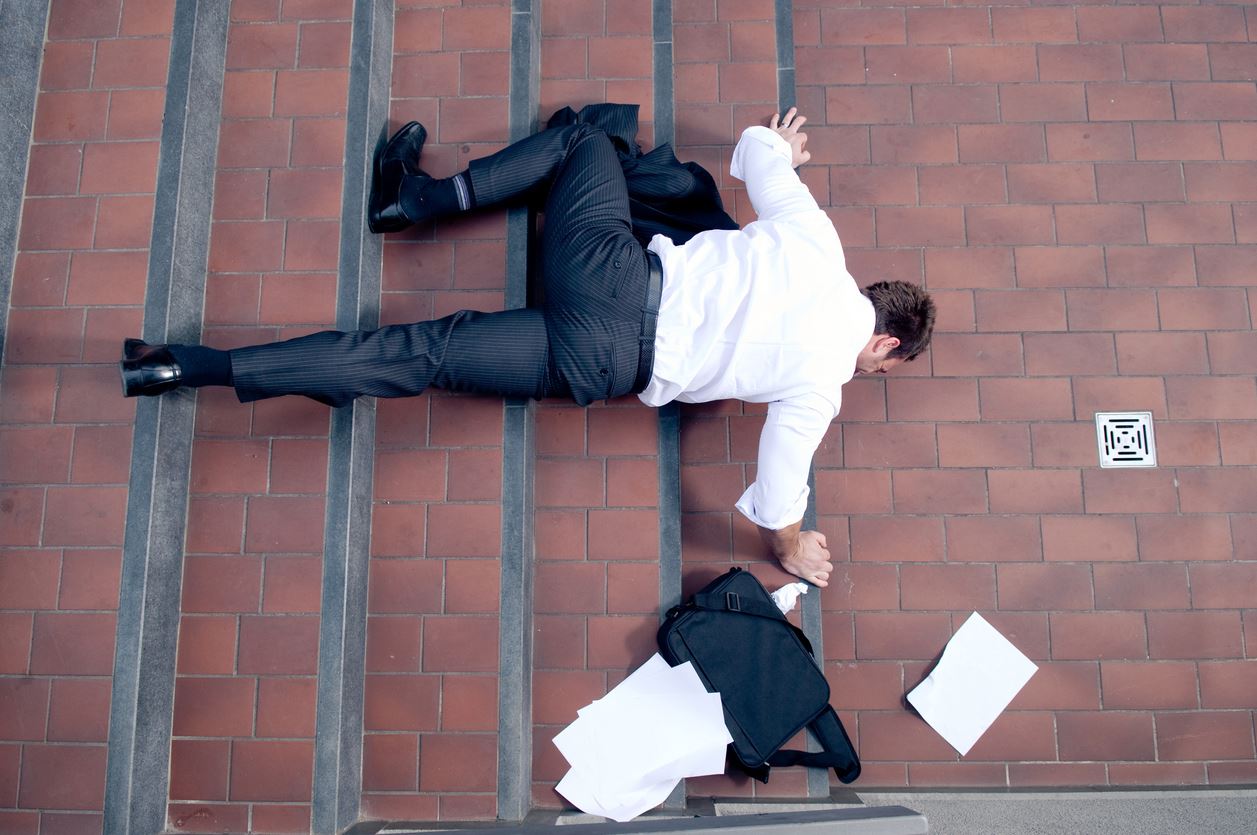 Falling down the stairs could result in serious injuries. Most stairs have handrails to help minimize the risk of falling, but unfortunately not all builders install handrails, often to save money at the risk of pedestrian safety. While there are certain instances in which handrails are required, it is not always required by Indiana law. It can be confusing and complicated to determine if the property owner was at fault after a victim falls down stairs that do not have a handrail or have a faulty handrail.
Why Hire a Lawyer After Falling Down a Set of Public Stairs?
Not every staircase that lacks handrails is a violation of a safety guideline or building code in Indiana. This is why it is wise to contact Attorney Jeff "JJ" Shaw. With 33+ years as a trip-and-fall lawyer in Indiana, he can review your case to determine if you are eligible for compensation for your injuries after falls on stairs without handrails.
Here at Shaw Law, our experienced and skilled legal team helps victims and their families recover compensation after falling on stairs without handrails. We know how to prove liability and position a case for strong damages awards when landowners and tenants fail to properly maintain their premises. If you or a loved one were seriously injured in any type of slip and fall or trip and fall, call our experienced premises liability lawyers to learn how we can help you recover compensation.
Why Stairs Must Have Handrails to Prevent Slips, Trips, and Falls
Under Indiana law, like most states, stairs only need handrails if there are a certain number of steps or risers. Some buildings are old, and the Indiana Building Codes do not apply or "go back" to the date of the construction. However, just because a building code might not be in violation, this does not that a reasonable owner or landowner wouldn't put stairs there. Remember – a building code violation is not automatic negligence on the part of the landowner in a court of law. It is evidence of negligence and probably entitles your case to not be dismissed prior to a jury trial, but fault must still be proven at that stage.
A violation of a building code helps you prove negligence in your case, but you must show more. Let us help you reach your goal. Indeed, victims of falls on stairs without handrails may be entitled to recover compensation even if the law did not require a handrail.
Additionally, special circumstances of danger can require handrails on stairs where it is typically wet (i.e., near pools), or there is a known drainage problem near dripping gutter water, where it can be icy, or under vegetation that could make walkways wet. In these situations, a reasonably prudent landowner or tenant would put a handrail to prevent falls. Failure to do so could result in liability.
Lack of Handrails Can Be a Foreseeable Harm that Could Have Been Prevented
Injuries that occur on someone else's property are called "premises liability" cases. If a property owner should have seen that something on their property (i.e., stairs without handrails or a faulty handrail) posed a hazard to others but did not remedy the situation before the fall happened, they may be held liable for their inaction. Foreseeability of danger is the key to fault on the part of the landlord, landowner, or business owner.
Injuries from Falls on Stairs Without Handrails
Falls on stairs without safe handrails can pose many risks for injury. Injuries can range from mild to severe, including the following:
Scarring or disfigurement
Internal organ injuries
Vision loss
Internal bleeding
Other injuries caused by falls on stairs without handrails
Victims Hurt by Falls on Stairs Without Handrails Should Call Our Trip and Fall Lawyers in Indiana
Victims should call our experienced trip and fall lawyers at Shaw Law for a FREE consultation to learn more about what your rights may be under the law.
To get in touch, dial (260) 777-7777 or send us a message through our "Contact Us" box available here.
"A Lawyer you can count on."

- Kim