Falls on Curbs Too High/Low or Broken Curbs: Attorneys for Curb-Related Fall Injuries in Indiana
We all must step up and down curbs when walking on city streets and within neighborhoods. City blocks are filled with curbs we must navigate; business sidewalks and parking lots require us to walk up/down curbs to get into stores or back into our cars. And each curb presents another opportunity to trip and fall if we encounter a particularly dangerous or broken curb or a curb that does not meet building codes by being too high or too low (usually curbs are required to be somewhere between 4" to 8" tall).
The height of the curb is not the only thing that can be dangerous – the mere existence of a curb can be dangerous to a pedestrian. Why? Because of the human brain. For most people, single riser steps -- like curbs -- are often not seen or recognized by the human eye. The human eye has a very difficult time when attempting to see a difference between two levels of ground versus multiple steps, especially when the two levels of ground are of a similar color. The human eye tends to "blend" the two-level surfaces together, which can lead an observer to believe only one level exists and the curb does not.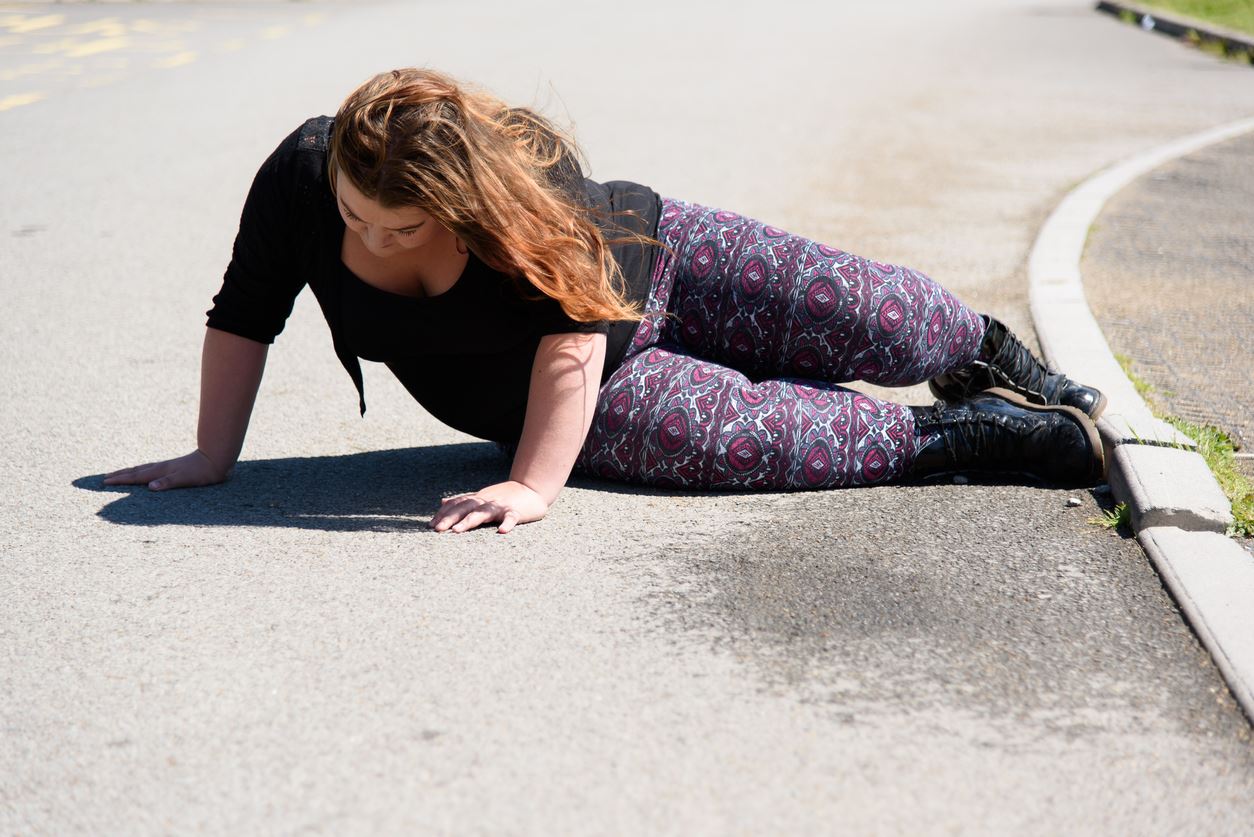 Legal Protections for Pedestrians
The law recognizes the lack of safety for pedestrians encountering single-step curbs and requires "clues" or "markers" to help the human eye discern there is a step between two levels of ground that appear to blend into each other if someone takes only a fast glance. This concept is called making single-riser steps and curbs "conspicuous" or observable, with safety features such as yellow paint on one of the levels.
Some businesses recognize the danger of curbs for pedestrians and try to eliminate them altogether or make them low and very conspicuous. Wal-Mart stores, for example, usually all have low curbs painted red to distinguish their existence from the blacktop asphalt parking lot. The addition of multiple handicapped ramps makes the Wal-Mart parking lot perhaps the most cognizant or aware of the dangers of parking lots of any and all shopping markets, centers, or stores.
Establishing Liability in Curb-Related Slip, Trip, & Fall Cases
Another unique issue about trip-and-falls or slip-and-falls because of curbs can be who is responsible. Is it the city? If so, there are many pitfalls that an unsuspecting person might not be aware of that can cause your claim to get dismissed before you ever get into Court. For example, Indiana law requirements under the Indiana Tort Claims Act require a "pre-notice" of an injured person's intentions to bring a claim against a government entity before filing a lawsuit. Failure to file the paperwork within a certain number of days from the injury (often 180 days) can mean a complete waiver or bar to any recovery – even if a lawsuit is later filed – for failure to notify the government entity of the injury itself.
It makes perfectly good sense (although it is unfair) that the government – who writes the laws – would enact a law that protects itself and makes the time to file a lawsuit shorter than the typical personal injury case or claim. Any fault on the part of the injured person completely exonerates the government from any liability for broken or dangerous curbs, too. That's why it is so important to hire an experienced attorney.
Jeff "JJ" Shaw has been dealing with broken curb cases for 33+ years. Don't trust your slip-and-fall or trip-and-fall case to just anybody – call our firm at (260) 777-7777 for solid advice you can rely on.
Representation for Victims of Catastrophic Injury
While most people don't worry about a fall from a curb causing catastrophic injuries, these types of accidents often result in serious, debilitating, and even lifelong injuries. Falls from a curb can happen for a variety of reasons but are often due to a sidewalk curb being the wrong height. Yes, building codes and local laws require curbs to be a certain height. When a builder fails to do this or when a landowner or tenant fails to promptly repair damage to a curb, victims suffering falls on too high or low curbs may be entitled to compensation. Ask our experienced trip-and-fall lawyers in Indiana for help with these types of cases.
Here at Shaw Law, we know that proving that falls on too high or low curbs can be very difficult. However, when personal injuries are catastrophic, like brain injuries, spinal cord injuries, broken bones, and other serious harm, individuals deserve the proper care and attention to their case in order to maximize their recovery.
If you were injured in a fall on a curb, call our trip-and-fall lawyers in Indiana for a FREE consultation to learn more about your rights.
Types of Curb Defects that Can Make Them Dangerous
There are many different types of curb defects that can make a curb dangerous. The most common types of curb defects that pose a hazard to pedestrians include the following:
Sidewalk curbs built too high
Sidewalk curbs built too low
Sinking concrete before a curb, making it too high
Sinking concrete after a curb, making it too low or uneven
Curbs not in proper locations
Debris or garbage before curbs, making them appear shorter
Damage to curbs that are not repaired
Other defects that make curbs higher or lower than they should be under the law
Dangers of Curbs with an Improper Height
We all encounter curbs on almost a daily basis. While they are not necessarily dangerous by themselves, they can be in certain situations. This includes when they are not properly constructed. They are supposed to be a certain height so that people interacting with them do not need to focus on them and can look where they are going, because we all generally know how high a curb should be. But when we are walking up to a sidewalk or concrete walkway and the curb is too high, it can cause us to trip by not having the right clearance. This is dangerous and is classified as a defect under the building and maintenance code. The same is true for curbs that are too short, where a person could step off them thinking they are the proper height and be caused to roll off and down, becoming seriously injured. Victims who suffer serious injuries in this type of fall may be entitled to compensation for curbs that are too short.
Common Injuries from Falling on a Curb that Is Too High or Low
Injuries due to falling from a curb that is too high or low include the following:
Torn muscles
Torn tendons
Bulging or herniated discs
Internal organ injury or damage
Traumatic brain injuries
Paralysis
Torn ligaments
Head injuries
Separations or dislocations
Broken bones or fractures
Anyone Hurt in Falls on Too High or Low Curbs or Broken Curbs Should Call Shaw Law in Indiana for Help
Victims who are injured by falls on too-high or low curbs in Indiana should call our experienced trip-and-fall lawyers at Shaw Law for a FREE consultation to learn more about your rights under the law.
Dial (260) 777-7777 or send us a message through our Contact Us box available here.
"A Lawyer you can count on."

- Kim