Collarbone Fracture After a Slip and Fall
If a Fall Caused a Collarbone Fracture After a Slip and Fall, You May Be Entitled to Compensation Under the Law: Slip and Fall Lawyers in Indiana Explain
Falls can cause a variety of different injuries. Some of these injuries are a minor ache, while other injuries could be catastrophic. One of the most painful injuries that most people may not associate with a fall is a collarbone fracture. However, orthopedic research considers a collar fracture to be fairly common accounting for 5% of all adult fractures. The collarbone (or clavicle) connects the shoulder to the breastbone. The force a body receives during a slip and fall accident can be so strong that this bone fractures when a victim comes down at the right angle.
Here at Shaw Law, we know that a reckless, careless, and negligent landowner, tenant, or property maintenance company could cause serious personal injuries to innocent people if their property is not properly maintained. While most individuals or businesses do properly maintain their properties, unfortunately far too many do not. When innocent people are seriously injured and suffer a collarbone fracture after a slip and fall, our experienced slip and fall lawyers in Indiana can help recover them compensation.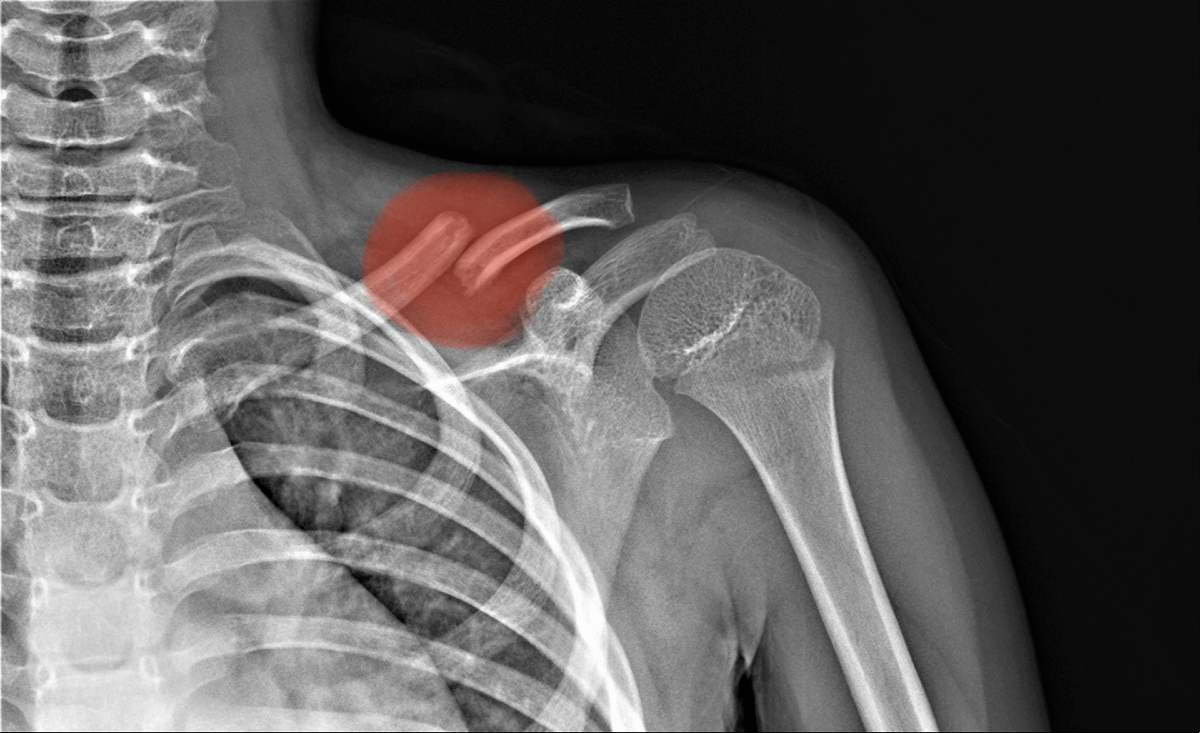 Prevalence of Collarbone Fractures
According to a study quoted by the National Institute of Health, sixty-eight percent (68%) of broken collarbones occurred in males aged 15 to 24. But at the ages of 65 and above, females sustained more broken collarbones than males. Same level falls and bicycle accidents were the most common injury mechanism.
The elderly, those with vitamin D deficiencies, and those with osteoporosis, are especially prone to bone fractures because their age and these conditions make them frail. A slip and fall can be more dangerous for them and lead to a broken bone because they are not physically equipped to handle the impact of a fall as a younger, healthier person might be able to do.
But that is not to say that younger people are immune to breaking bones after a slip and fall. Even the strongest worker might not be safe when there is a slippery floor, a broken step, or a hole in the sidewalk that should not be there. Unsafe living conditions and unsafe working conditions provide all too many opportunities for someone to accidentally take a spill and snap their collarbone.
How a Collarbone Fracture Can Occur in a Fall
A collarbone fracture after a slip and fall may not sound common, but it is in certain types of falls. The most common way for it to occur is when a person is falling and puts his or her arm out to break a fall. Another way is for a person to fall down stairs or roll.
Some of the most common ways that a slip and fall could result in a collarbone fracture include the following:
Snow and ice
Wet floors
Spilled products
Debris on the floor
Excessive soap or wax on the floor
Stacks of objects on the floor like stocking materials
Falls on improperly constructed stairs
Lack of a handrail or a broken handrail
Uneven flooring
Broken flooring
Many other common causes
If you or a loved one suffered a collarbone fracture after a slip and fall, call our experienced slip and fall lawyers in Indiana at (260) 777-7777 to learn how we can help protect your rights to compensation.
Understanding Collarbone Fractures
When the bone fractures (or breaks) and does not pierce the skin, it is known as a closed fracture. A closed fracture like this may heal on its own if it is non-displaced, meaning if the ends of the bone are still lined up. But this does not mean a person should not seek medical attention, as it is nearly impossible to know whether the fracture is non-displaced or not without special imaging. A visit to the doctor or to the hospital will confirm if there was a broken bone using an X-ray.
A compound fracture is more severe. This type of fracture means that the bone is broken through the skin. This usually means that it has damaged nearby structures. These kinds of collarbone breaks are fixed with surgical techniques using metal screws and plates. Sometimes these plates and screws are removed with another surgery, but often they are permanent fixtures to the body.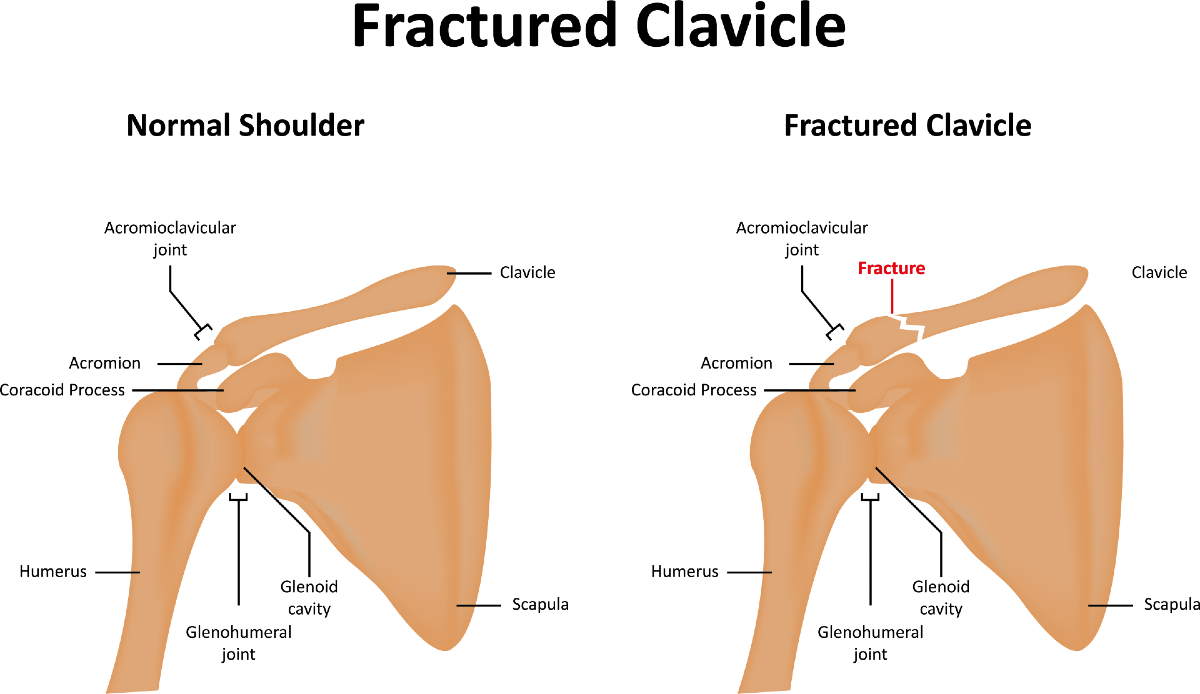 Prognosis for Collarbone Fractures
Adults usually take about six to eight weeks to heal. Children's collarbones heal much faster, and only take about three to six weeks. Although the bone may heal in this relatively short amount of time, the shoulder itself still needs to recover and to regain its strength and flexibility. As the months go by, these things should also improve.
A physical therapist is a movement specialist who can help the patient in their recovery by providing strength building and flexibility exercises. This is an important step in the recovery process, because it helps to decrease any atrophy that may have occurred from inactivity. Without physical therapy, a person may lose range of motion in his or her shoulder.
If a Fall Caused Your Broken Collarbone, Call Our Slip and Fall Lawyers in Indiana for Help
Learn how our experienced slip and fall lawyers in Indiana at Shaw Law can recover compensation for you such as medical bills, lost wages, loss consortium, and for your conscious pain and suffering. Our bodily injury law firm is dedicated to supporting the rights of victims and their families after any type of premises liability case involving a slip, trip, and fall.
If you or a loved one suffered any type of personal injuries after an accident on the property of another, call the experienced slip and fall lawyers in Indiana at Shaw Law to learn how we can help protect your rights. We will not let insurance adjusters and overly aggressive defense lawyers protect dangerous landowners or tenants. Learn how we can recover you compensation and hold negligent defendants responsible.
Our experienced team can help you and your family recover the compensation that you need to reimbursement your expenses and compensation you for your physical pain, suffering, and agony.
Come see us for straight talk about your injury case after you trip and fall or slip and fall.
Shaw Law handles any type you fall on the property of another person, business, or government entity, call our experienced slip and fall lawyers todayat (260) 777-7777 or message us to schedule your free consultation.
DEFENDING THE COMMUNITY SINCE 1989
Read Our 5-Star Reviews
A Lawyer you can count on. - Kim

Not just the lawyers you need, but the lawyers you WANT. - Tristen K

Jeff Shaw was Very Professional - Shelby Kunes

Attorney Shaw got me a fair settlement, much more than I thought we were going to get. - Randy & Kathy M

I Told Him He Now Felt Like a Member of Our Family More Than Our Attorney. - Stephanie B.
$5,000,000 Verdict in Indianapolis, IN

Bicyclist Struck by Indianapolis School Bus (independent contractor) Awarded $5M by Indianapolis Jury (Upheld by Verdict, $4.4M Paid)

$3,040,000 Verdict in Gary, IN

Blackjack Dealer Awarded for Slip and Fall on Ice in Trump Casino Parking Lot

$1,750,000 Verdict in Hammond, IN

Child Dies in Fire, Landlord Failed to Provide Adequate Smoke Detectors

$1,460,000 Verdict Near the Ozarks of Missouri

Sheriff's Deputy who Collides With Improperly Transported Manufactured Home Convoy

$750,000 Settlement for Paralyzed Man Shot at Indy Gas Station

Man Shot and Paralyzed at Gas Station by Unknown Assailant from Unruly Crowd That Gathered After Murder of Person the Night Before at Same Site

$750,000 Settlement in Indianapolis, IN

$750,000 Settlement Slip and Fall Indianapolis Woman Falls on Water in Produce Section of Indianapolis Grocery Store Breaking Leg.

$750,000 $750,000 Verdict in Delphi, IN

$750,000 Verdict for Lady in Golf Cart Struck by Drunk Driver Awarded by Jury in Carroll County

$605,000 $605,000 Verdict in Valparaiso, IN

$605,000 Verdict - Child Awarded for Facial Scarring When Landlord Failed to Cover Exposed Hot Water Pipe in Living Room

$500,000 $500,000 Verdict in Kokomo

$500,000 Verdict for Woman Slip and Fall in Domino's Pizza Restaurant on Water (Reduced to $375,000)

$500,000 $500,000 Settlement in Bluffton, IN

$500,000 Wrongful Death Settlement in Bluffton, Indiana for Woman Killed When She Crossed Center-Line Into Path of Oncoming Speeding Semi-Truck