Carpal Tunnel Syndrome After a Slip and Fall
Understanding How Carpel Tunnel Syndrome After a Slip and Fall Can Result in Liability: Explained by Our Slip and Fall Lawyers in Indiana
Injuries to the wrist are common in slip and fall accidents, especially because most people either fall onto their wrists or they try to break their fall with their wrist. While it may help to avoid a larger injury, an impact in a slip, trip, and fall on the risk could result in very serious personal injuries. Sometimes those injuries are broken bones, but if not, it could result in carpel tunnel syndrome. This is a potentially serious and debilitating injury that may need surgery and can absolutely be caused by a fall. If you or a loved one were diagnosed with carpel tunnel syndrome after a slip and fall, call our experienced slip and fall lawyers in Indiana to learn how we can help you.
Our skilled and experienced personal injury lawyers at Shaw Law are dedicated to helping protect the rights of victims and their families who have been injured in Indiana. Whether your injuries are acute trauma or chronic pain after a fall, any damages proximately caused by a defendant's negligence in maintaining his or her property may result in an award of compensation.
What is Carpel Tunnel Syndrome?
The palm side of the hand has a tunnel (or passageway) made up of ligaments that lead from the fingers to the wrist. This tunnel houses the median nerve, along with blood vessels and tendons. When this tunnel gets compressed, then the hand, the fingers, and the wrist are sent a pain message.
Pain is signal that something bad is happening, or that damage will happen if the activity is not stopped. Because carpal is Latin for wrist, carpal tunnel syndrome refers to anything that presses on the median nerve and causes pain and numbness in this area.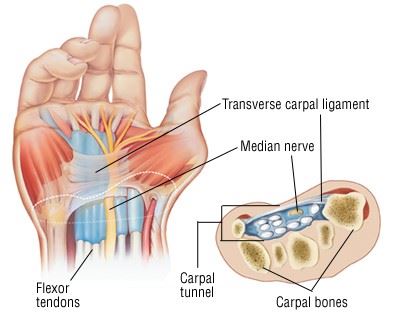 Causes of Carpal Tunnel Syndrome
Usually carpal tunnel syndrome is associated with repetitive tasks that use grasping or wrist bending, such as typing on a key board or using a mouse. But there are other reason why someone might be afflicted with this syndrome.
Broken bones of the wrist or hand, or sprained or strained wrists after a slip and fall may also lead to carpal tunnel syndrome. Just about any type of trauma that compresses the median nerve after a slip and fall can be responsible for this syndrome.
Signs of Carpel Tunnel Syndrome After a Slip and Fall
If you or your loved one are the victim of a slip and fall and suffered an injury to the hand or wrist area, then you will want to be aware of the signs carpal tunnel syndrome so that you can recognize them. The sooner these symptoms are recognized, the sooner the pain will end and their road to recovery may begin.
The most common symptoms may include numb fingers, or numbness in the entire hand. This is also described as pins and needles, or tingling. Others experience a loss of sensation in the fingers and thumb, while others describe their hand cramping up or having muscle spasms. "Trigger Finger" usually affects the ring finger or the thumb, and happens when the finger locks or catches in a bent position, making it hard to straighten the finger.
In the worst of the carpal tunnel syndrome cases, patients have reported that they have trouble feeling the difference between hot and cold temperatures. If someone cannot distinguish from hot and cold, then they may burn themselves because they do not feel pain, or they may experience frostbite or hypothermia.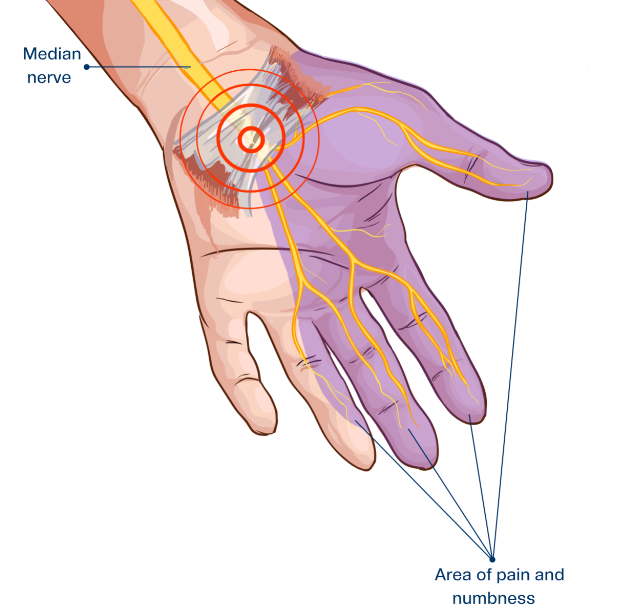 Call (260) 777-7777 and ask our experienced slip and fall lawyers in Indiana how we can recover compensation for carpal tunnel syndrome after a slip and fall during a FREE consultation with our team.
Treatment for Carpal Tunnel Syndrome After a Fall
If you experienced these symptoms after a slip and fall, you should plan a visit to a medical professional to get a diagnosis of carpal tunnel syndrome. Your doctor may do electrophysiological tests to measure if there is any compression on the median nerve. A nerve conduction study is another test to verify if the nerve is sending signals, and the electromyogram (EMG) study will inform the doctor if there is any muscle damage or nerve damage.
If there is median nerve compression, it might also show up in an ultrasound of the area. X-rays will be able to show damage to the bones, such as a fracture, or arthritis. As for soft tissues that will not be visible on an X-ray, the magnetic resonance imaging scan (MRI) will be able to show if any of those are affecting the median nerve.
Carpal tunnel syndrome calls for either non-surgical treatments, or surgical treatments, because the compression of the median nerve will not go away on its own and will worsen over time. The first is to avoid activities that aggravate symptoms. Wearing a brace or splint can help, and ibuprofen and naproxen can relieve inflammation and lessen pain. Injecting steroids directly into the carpal tunnel is a temporary fix, and as a last resort the surgery known as carpal tunnel release is a more permanent solution.
Were You Diagnosed With Carpel Tunnel Syndrome After a Slip and Fall? You May Be Entitled to Compensation
When you think of slip and fall injuries, you may not think of carpel tunnel syndrome. However, this is a very serious and actually common injury that may not start off with a broken bone is extreme trauma, but it could become extremely debilitating and require surgery.
If you were diagnosed with carpel tunnel syndrome after a slip and fall in Indiana, or you or a loved one suffered any type of personal injuries after an accident on the property of another, call the experienced slip and fall lawyers in Indiana at Shaw Law to learn how we can help protect your rights. We will not let insurance adjusters and overly aggressive defense lawyers protect dangerous companies. Learn how we can recover you compensation and hold negligent defendants responsible.
Come see us for straight talk about your injury case after your trip and fall or slip and fall accident. Call (260) 777-7777 or message us to arrange for your free consultation.
DEFENDING THE COMMUNITY SINCE 1989
Read Our 5-Star Reviews
A Lawyer you can count on. - Kim

Not just the lawyers you need, but the lawyers you WANT. - Tristen K

Jeff Shaw was Very Professional - Shelby Kunes

Attorney Shaw got me a fair settlement, much more than I thought we were going to get. - Randy & Kathy M

I Told Him He Now Felt Like a Member of Our Family More Than Our Attorney. - Stephanie B.
$5,000,000 Verdict in Indianapolis, IN

Bicyclist Struck by Indianapolis School Bus (independent contractor) Awarded $5M by Indianapolis Jury (Upheld by Verdict, $4.4M Paid)

$3,040,000 Verdict in Gary, IN

Blackjack Dealer Awarded for Slip and Fall on Ice in Trump Casino Parking Lot

$1,750,000 Verdict in Hammond, IN

Child Dies in Fire, Landlord Failed to Provide Adequate Smoke Detectors

$1,460,000 Verdict Near the Ozarks of Missouri

Sheriff's Deputy who Collides With Improperly Transported Manufactured Home Convoy

$750,000 Settlement for Paralyzed Man Shot at Indy Gas Station

Man Shot and Paralyzed at Gas Station by Unknown Assailant from Unruly Crowd That Gathered After Murder of Person the Night Before at Same Site

$750,000 Settlement in Indianapolis, IN

$750,000 Settlement Slip and Fall Indianapolis Woman Falls on Water in Produce Section of Indianapolis Grocery Store Breaking Leg.

$750,000 $750,000 Verdict in Delphi, IN

$750,000 Verdict for Lady in Golf Cart Struck by Drunk Driver Awarded by Jury in Carroll County

$605,000 $605,000 Verdict in Valparaiso, IN

$605,000 Verdict - Child Awarded for Facial Scarring When Landlord Failed to Cover Exposed Hot Water Pipe in Living Room

$500,000 $500,000 Verdict in Kokomo

$500,000 Verdict for Woman Slip and Fall in Domino's Pizza Restaurant on Water (Reduced to $375,000)

$500,000 $500,000 Settlement in Bluffton, IN

$500,000 Wrongful Death Settlement in Bluffton, Indiana for Woman Killed When She Crossed Center-Line Into Path of Oncoming Speeding Semi-Truck