Biceps Tear After a Slip and Fall
If You Suffered Any Biceps Tear, Call Our Slip and Fall Lawyers in Indiana For Help
Bicep tears are extremely painful and can wreak havoc for months or years after a slip and fall. The bicep is the largest muscle in the human arm and nearly every movement of the arms requires some use of the muscle.
While some slip and fall incidents may result in no injury or minor injuries, slip and fall incidents can also result in serious injuries as well. Arm and shoulder injuries are quite common after a slip and fall incident, with some shoulder injuries requiring prolonged recovery, significant pain, disability, and time out of work which can create great financial strain. Biceps tendon tear is a common type of arm and shoulder injury which can occur as a result of a slip and fall incident. If you have suffered or are suffering from a biceps tear after a slip and fall incident, you should contact an experienced slip and fall lawyer in Indiana.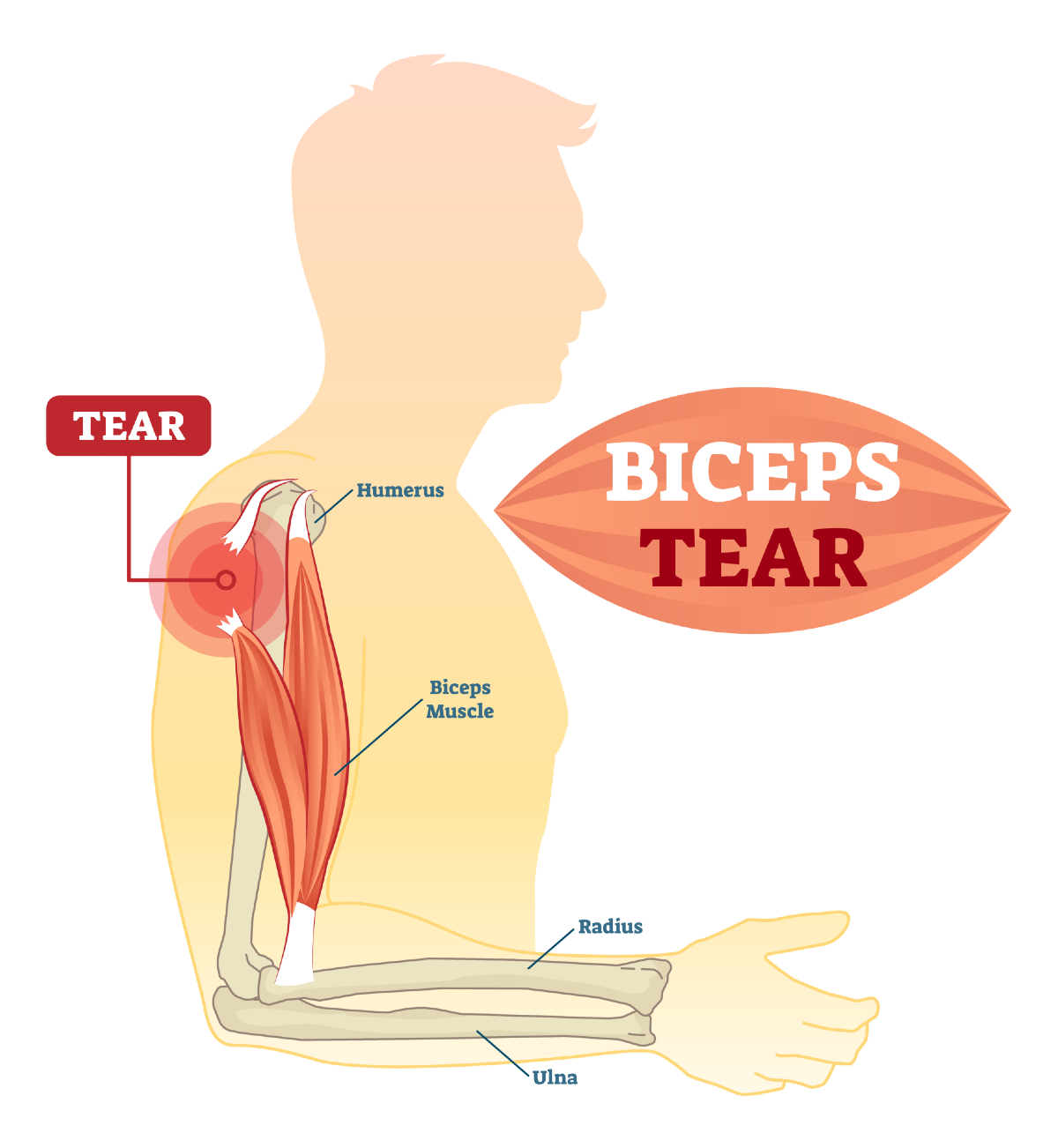 What is a Biceps Tendon Tear Injury?
The biceps muscle is located in the arm at the front. This muscle has two tendons which attach the muscle to the bones in the shoulder and elbow. A biceps tendon injury can occur when the biceps muscle is torn from the bone at the point of the tendon. The Cleveland Clinic reports that biceps tendon tears can happen at the elbow or shoulder, and the tear can be partial or complete. A complete tear means that the tendon has torn completely away from the bone.
What Causes a Biceps Tendon Tear Injury?
Bicep tendon tear injuries can occur in a variety of ways, with one of them being a fall from a slip and fall incident. In the case of a slip and fall incident, a biceps tendon tear typically occurs due to a person falling down with the arm outstretched or twisting the shoulder or elbow in an awkward way. A slip and fall incident occurs when a hazard is not appropriately fixed or treated. Examples of hazards that can cause a person to have a biceps tendon tear injury includes the following:
Unlevel flooring
Wet flooring
Snow
Ice
Carpet that is bunched up
A freshly cleaned floor with no caution wet floor sign
Debris
Trash
Failing to clean up something that spilled on the floor
Garbage on the floor that is piled up or not cleaned
Excessive use of wax or soap on the floor, and
Many other common causes of a slip and fall incident in Indiana.
Here at Shaw Law, experienced personal injury law firm can help you and your family recover compensation after any type of incident, especially a premises liability case like a slip, trip, and fall incident. If you or a loved one suffered a biceps tear after a slip and fall incident, learn more about how we can help you during a FREE consultation with our experienced slip and fall lawyers in Indiana by dialing (260) 777-7777. We can help you recover compensation for medical bills, lost wages, and conscious pain and suffering.
What are the Symptoms of a Biceps Tendon Tear?
Significant, sharp and severe pain at the elbow or shoulder
Weakness or feeling of weakness in the elbow or shoulder
Difficulty rotating the arm from a "palm down" to a "palm up" position
Bruise on the forearm near the elbow or the upper arm
A visible change is the appearance of the biceps ("Popeye muscle")
How is a Biceps Tendon Tear Diagnosed?
The doctor will perform a physical examination and then typically will order an imaging study or MRI to assess if a biceps tendon tear is present.
How is a Biceps Tendon Tear Treated?
Treatment for a bicep tendon tear depends largely on the degree of the tear, and how symptomatic the injured person is. Non-surgical treatment is typically attempted first (ice, rest, physical therapy, non-steroidal anti-inflammatory drugs (NSAIDs) but if found to be ineffective, surgical treatment may be recommended. For biceps tendon tears at the elbow, surgery is necessary in order to regain full function.
What are the Complications of a Biceps Tendon Tear?
If a person is required to have surgery due to a bicep tendon tear, there is always the chance of infection, bleeding, There is always the chance of persistent, numbness, weakness, or even the chance of a re-rupture after there is full healing of the repair. There is also the chance of new bone growing around the site of tendon attachment which can impair movement.
Were You Diagnosed With a Biceps Tear After a Slip and Fall in Indiana? We Can Help
A biceps tendon tear in the arm and shoulder can result in a prolonged recovery because of the surgery and lengthy recovery. Most individuals will need to take months off of work or from doing many basic functions, including driving, carrying groceries, or caring for loved ones. If you suffered a biceps tear after a slip and fall, contact our experienced slip and fall lawyers in Indiana at Shaw Law for a FREE consultation to learn what your rights may be under the law.
DEFENDING THE COMMUNITY SINCE 1989
Read Our 5-Star Reviews
A Lawyer you can count on. - Kim

Not just the lawyers you need, but the lawyers you WANT. - Tristen K

Jeff Shaw was Very Professional - Shelby Kunes

Attorney Shaw got me a fair settlement, much more than I thought we were going to get. - Randy & Kathy M

I Told Him He Now Felt Like a Member of Our Family More Than Our Attorney. - Stephanie B.
$5,000,000 Verdict in Indianapolis, IN

Bicyclist Struck by Indianapolis School Bus (independent contractor) Awarded $5M by Indianapolis Jury (Upheld by Verdict, $4.4M Paid)

$3,040,000 Verdict in Gary, IN

Blackjack Dealer Awarded for Slip and Fall on Ice in Trump Casino Parking Lot

$1,750,000 Verdict in Hammond, IN

Child Dies in Fire, Landlord Failed to Provide Adequate Smoke Detectors

$1,460,000 Verdict Near the Ozarks of Missouri

Sheriff's Deputy who Collides With Improperly Transported Manufactured Home Convoy

$750,000 Settlement for Paralyzed Man Shot at Indy Gas Station

Man Shot and Paralyzed at Gas Station by Unknown Assailant from Unruly Crowd That Gathered After Murder of Person the Night Before at Same Site

$750,000 Settlement in Indianapolis, IN

$750,000 Settlement Slip and Fall Indianapolis Woman Falls on Water in Produce Section of Indianapolis Grocery Store Breaking Leg.

$750,000 $750,000 Verdict in Delphi, IN

$750,000 Verdict for Lady in Golf Cart Struck by Drunk Driver Awarded by Jury in Carroll County

$605,000 $605,000 Verdict in Valparaiso, IN

$605,000 Verdict - Child Awarded for Facial Scarring When Landlord Failed to Cover Exposed Hot Water Pipe in Living Room

$500,000 $500,000 Verdict in Kokomo

$500,000 Verdict for Woman Slip and Fall in Domino's Pizza Restaurant on Water (Reduced to $375,000)

$500,000 $500,000 Settlement in Bluffton, IN

$500,000 Wrongful Death Settlement in Bluffton, Indiana for Woman Killed When She Crossed Center-Line Into Path of Oncoming Speeding Semi-Truck